Whiskies Around The World Tasting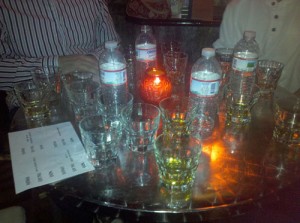 This blog is primarily a sweets blog, but sometimes you turn to alcohol to punch up the taste of whatever your making so I figured the post would be appropriate and I had some pretty cool pictures too! Last Monday, Dave and I had the chance to accompany our friends Pete and Christey (@fotocuisine) to a whiskey tasting at one of our local pubs – Mainstreet Pub. Mainstreet offered up a selection of 13 different whiskies for their 'Whiskies Around The World' event, along with a 'unofficial' tasting of a 14th. I am pretty much open to trying anything new, and I honestly didn't know all that much about whiskies going into the tasting. I DO know that bourbon is one my favorite ingredients in baking, so why not broaden my pallet and bask in the opportunity to try some new spirits, revisit some old ones and find a drink of my own!
Since getting our smart phones, I have been taking a lot more out and about pictures via the phone. All the glasses of whiskey looked so pretty in the dimly lit room – so much so it was screaming 'take a picture!!!!' I was not sure how we would be at the end of the night and figured I better start taking pictures now I so remember our likes and dislikes in the morning.
Bottoms Ups!
Our evening began by checking in and heading up about 20 stairs to the beautiful outdoor deck. We were already thinking, this is going to be real interesting trying to get back down later! We all made note of where all the steps and stuff were because it was rather dark  and cozy. The inside portion where the tasting was held was called 'the Lava Bar.' The four of us headed in to the chic and tastefully decorated lava lamp filled room to find a table. We settled down for our two hour world tour just behind the main speaker for the evening, Kilted Jay McClure.
We were first introduced to the history of whiskey, learned about the laws regulating this spirit and many of the hows (types of grains, casks used, chemistry). Just reading over the wikipedia article on Whiskey will give you a good idea of what we touched on in about the first fifteen minutes of the evening. After the short history lesson it was on to some tasting!
How to Taste
We were instructed with each glass to first sniff – swirl the glass to funnel the aromas up, and not to bury our nose in the glass because the alcohol might desensitize our noses a bit. Then sip to let the spirit roll over the tongue and through the mouth before finally swallowing. Then after we did all that, we were invited to add about a capful of bottled water to our drink, and repeat the process – noting the differences. It was amazing to taste the changes and it really 'opened' the whiskey up for us to see all the other subtler qualities. Jay mentioned in the future to try experimenting with different temperature waters, and in his opinion "whiskey and water at 98.6 degrees (body temperature) tastes the best, but maybe that's because it's been in my flask all day!"
Sheet 1: The Youngins
Canadian Club 6 year
Crown Royal
Russel's Reserve 6 year Rye
Knob Creek 9 year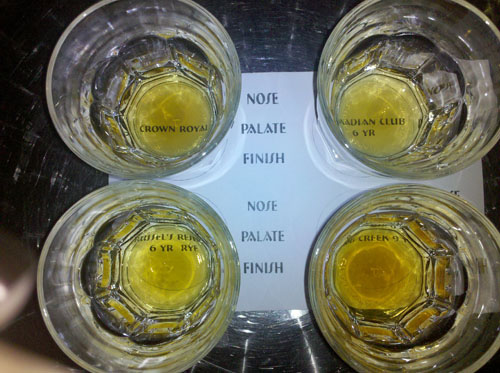 Since all in company had kids, we couldn't help but compare some of these whiskies to kids. This round definitely had that kick in the teeth kind of feeling. I mean, glow…that's what they call the the feeling or burning you get after you swallow the whiskey. We also noted the differences in color, all were very lightly colored. The tastes were pretty mild compared to the next two sets. I wouldn't mind drinking some of these after starting with the good stuff, or using in a mixed drink.
My favorite from the group: Russel's Reserve 6 year Rye
After some light appetizers and chatting under the stars we went back inside for the next round.
Sheet 2: The Pre-Teens

Glenlivet 12 year
Jameson's 12 year
Elijah Craig 12 year
Dewar's 12 year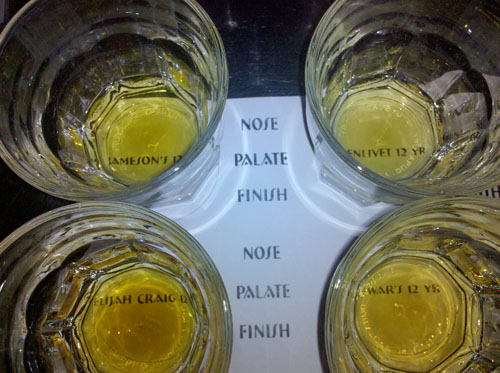 These were some pretty tasty samples of whiskey. This is where we could definitely start to note the change in taste and flavor with the addition of water. I have had Jameson's before with friends, but from this group the Elijah Craig won over my pallet. I quickly scooped up my glass so none of my tablemates could claim it for extras! What better way to enjoy the stars on a brisk Florida winter evening than with a glass of whiskey and friends!
My favorite from the group: Elijah Craig 12 year
Again, more appetizers, whiskey in hand and more stories!
Sheet 3: The kids have grown up and found their place in the world

Red Breast 12 year
Macallan 12 year
Yamazaki 12 year
Chivas 12 year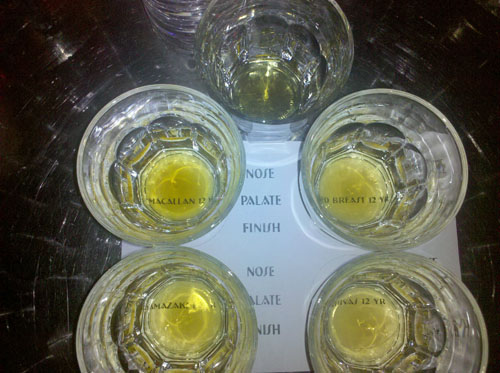 Wow. With the exception of the Yamazaki these were REALLY smooth. We were explained that the Japanese are starting to get into whiskey production since they like the stuff so much. To me, it really tasted like some of the 6 year old whiskeys, maybe a bit robotic – sorry guys!
Finally, we got to sample a fifth, whose name was  not on our sheet. Thanks to Christey and the gentlemen from Mainstreet (Scott, Jay, Ken) a few days later I finally found the name of this tasty spirit – Trader Joe's Imperial 12 year (also can be found under the "Signatory" label). It tasted like all of my favorite desserts, nutty and toffeeish – and there was this ever so slight smokey taste. I just wanted to go curl up in a corner with it and call it 'my precious!' What was further fascinating about this sample is that it came from a silent distillery – meaning, there's no more of this stuff to be had once we drink it all. How sad! This was hands down my overall favorite. Dave's favorite was the Macallan (as was Jay's – the water of his people!) and other hosts in presence offered to drink any Red Breast that was left in our glasses!
My favorite from the group: Trader Joe's Imperial 12 year
Last Glow of the Evening
As everyone filed out for the evening, we sat around posting photos to Facebook and Twitter, reading books about whiskey and Scotland. We shared quite a few stories (clan colors, what really IS worn beneath the kilt (all gentlemanly of course!), Scottish lore/family histories) with our presenter Jay and the other hosts. The cherry on top of the evening was the 14th whiskey: Johnnie Walker Blue – not part of official tasting. Good will and shared spirit among friends with a new found or maybe increased respect for whiskey. The last time Dave and I had a taste of this was back in college, well…when we did not fully appreciate it unlike one of his roomates who was absolutely in love with the stuff. We toasted to a great evening of friendship, whiskey and storytelling – before we were kindly asked to pack it up for the evening!
Mainstreet said they were tossing around the idea of maybe doing this again in the future, with maybe some of the older whiskies at an increased price. Who knows, maybe we will see a follow up in the future! Thanks Dave, Christey and Pete for a fun evening!
Other Photos:
By Lena Genovese from the evening, posted by Mainstreet Pub on Facebook.
https://www.thesugarpixie.net/2010/02/01/whiskies-around-the-world-tasting/
https://www.thesugarpixie.net/wp-content/uploads/2010/01/whiskey01.jpg
https://www.thesugarpixie.net/wp-content/uploads/2010/01/whiskey01-300x300.jpg
Friends
Stories
alcohol,whiskey
This blog is primarily a sweets blog, but sometimes you turn to alcohol to punch up the taste of whatever your making so I figured the post would be appropriate and I had some pretty cool pictures too! Last Monday, Dave and I had the chance to accompany our...
thesugarpixie
thesugarpixie@gmail.com
Administrator
The Sugar Pixie