Key Lime Cookies and Contest Finalist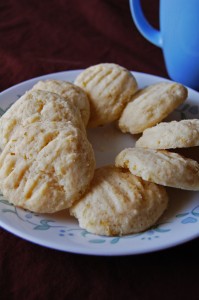 Well I never knew what happened to the Key Lime Cookie recipe I submitted to Parenting magazine went, until I saw the link on Facebook just a few minutes ago! I did not see my cookies listed in the recipes they selected for tasting, and figured 'Ah well!' Turns out it was one of the seven finalists in the 2009 Cookie Bake-off Bonanza, and this is my second entry into their contest. My first was the Million Dollar Cookies a few years back.
These cookies are a spin off the 'Last Minute Sugar Cookies' I made for Julie's birthday back in December.
In trying to use the last of the key limes from our tree I decided to zest and juice some up and add them to my sugar cookie/shortbread cookie recipe. The cookies were so light and tasty, but not so limey as to overpower a cup of tea. After a few batches of cookies, more flour/less flour, more juice/sugar/zest, more baking time I was pretty happy with the results. Dave did a lot of taste testing, my mom and sister got some as well as Dave's coworkers.
Key limes are a popular ingredient in my blog, because we have the cutest little key lime tree in our backyard that consistently produces quite a few key limes from July to December. The Key limes you get at the store are typically smaller and may require many many more than 4. Luckily the ones from our tree are a bit larger than the the average store key lime, but still smaller than a Persian lime.  Regardless where the juice comes from, fresh or a bottle you will be happy with the results. Could even try this with lemon juice for some lemon cookies.
So here's the recipe:
Key Lime Cookies
A light and buttery lime cookie perfect with coffee or a cup of tea.
Makes 3 dozen
1/2 lb butter (2 sticks) – room temperature
1/2 c sugar, plus a little extra to decorate
2 3/4 c all purpose flour
1 tbs baking powder
1/2 tsp salt
4 limes** (juiced and zested for the following)
1/4 lime zest
1/2 c lime juice
**NOTE: If key limes are not available, persian limes will work as well.  If using bottled key lime juice, feel free to use persians for the lime zest.
Directions:
Pre-heat oven to 350 degrees.
Prepare 2 cookie sheets (lightly grease, or use parchment paper).
Beat butter in a mixer to soften and gradually add sugar. Mix until light and fluffy.
Slowly add juice and zest.
Gradually add flour and baking powder until the dough becomes soft.
Portion dough into walnut sized balls, or use a small cookie scoop to portion (size 60, 2 tsp portioner).
Gently flatten the dough balls with a fork (patterned), or palm of your hand (flattened).
Lightly sprinkle with sugar before baking.
Bake for 15-18 minutes, until the cookies are a pale yellow color. Do not overbake, or they will become too dry.
Cool slightly on cookie sheet, and transfer to baking rack to cool completely.