Hyeholde Chef's Tasting : Dinner in a Castle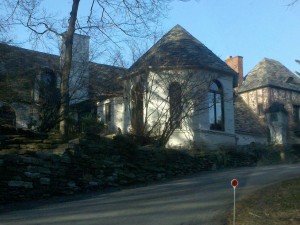 In 2010, Dave and I were visiting family in Pittsburgh, PA and growing up in the area were looking for somewhere different to eat. 'Different' being no chain restaurants, nothing obvious ie: Mt. Washington, and somewhere we had not been before. We did the obvious search for 'romantic Pittsburgh restaurants' and saw quite a few places we may end up going to, and then our thoughts changed to restaurants with 'chef tastings.'
Our search ended at Hydeholde Restaurant (FB) just outside of Pittsburgh in Moon Township, about ten minutes from the Pittsburgh Airport. At the time, Hyeholde mentioned a chef tasting on its website and Dave and I were super excited such a place existed in Pittsburgh! Neither of us had ever heard of the restaurant while growing up here. This cozy little mansion – that I dubbed the 'castle', because that's what it looked like driving up to it. It felt like stepping back in time as we drove up, passed the car to the valet and proceeded inside.
What is a Chef's Tasting?
A Chef's Tasting is simply where the chef gets the chance to flex his or her culinary prowess and delight you with items that may not be on the menu. Typically it utilizes what the chef as available. Sometimes it's something right from the menu, but with a unique twist, or perhaps something that hasn't made it to the menu yet, but the chef is thinking about. I don't mind being a guinea pig for the sake of culinary adventure!
Neither Dave or I were really familiar with the concept of a chef's tasting other than Victoria and Albert's at DisneyWorld. We had always talked about going with friends; however, it's insanely difficult to get a reservation and then it's not exactly cheap either. (My mom had the chance to go once and said it was amazing! Jealous….)
The Hyeholde Experience
The first time we went to Hyeholde in 2010 we used our smartphones to document the experience, but at this most recent visit we pocketed our phones so we could enjoy dinner with our friends Pete and Christey from @Fotocuisine. (Plus there was a sign politely asking that there be no cell phone use inside.)
The seven course Chef's Tasting is not on the menu, but since we did it once before we asked our server if we all could order it. Dave and I supplemented our meal with wine pairings (additional charge). For the more adventurous foodies, Hyeholde also offers a Chef's Table – that's IN the kitchen! Our server asks if there's any allergies, or if there's anything specifically we'd like and heads back to the kitchen to inform the chef. No allergies for our party, and we give the chef free reign to delight us with whatever he chooses!
While we waited for our meal we were served a warm basket of homemade bread. Half the basket was a sundried tomato bread, and the other featured crushed sunflower seeds. The breads were great by themselves, but the homemade olive tapenade were delicious accompaniments. The tomato bread with the olive almost tasted like pizza!
Our Chef's Tasting (August 27, 2011)
Jumbo Lump Crab Cake
Grilled Cobia on a bed of wax beans and lobster cream sauce
Foie Gras (with berries)
Pear Sorbet
Elk
Watermelon and Diced tomato 'salad'
Panna Cotta serviced wine poached pears and plums (there was a nutmeg/vanilla/ginger taste to it)
In the middle of our meal the Chef actually came out to talk with us for a few minutes. It gave us a quick opportunity to thank him and express our delight with the food thus far.
I had three favorites during the meal.
Grilled Cobia – The combination of the wax beans, cobia and lobster cream sauce was amazing. I wanted to lick my plate clean. This was a recipe the Chef was thinking adding to the menu – we all happily agreed he should!
Foie Gras – I wasn't too sure about this when it came out, but oh my! The grilled foie had a delicious berry reduction served with some fresh berries. I really couldn't believe a combination like that could taste SO good!
Wine pairings – The pairings were nothing short of perfect. The right drink adds the right touch to an already perfect meal. Everything just goes to the next level. My only regret was maybe it was too much alcohol, and perhaps Dave and I will just share one next time. Definitely hard to pass up.
I highly recommend to anyone with any slight interest in food, to do a chef's tasting at least once in your life. I would do this again and again because you never really know what you're going to get and you come away thinking 'Wow, how delicious (your favorite here)!' It really gets a foodie's creative juices flowing, and just writing this post I want to go back!!!
Enjoy some some pictures from our tasting in March 2010.
Course 1: Potato and Leek soup with locally smoked ham. Microgreen garnish
Course 2: Boar with roasted chickpeas and cous cous
Course 3: Grilled local wild mushrooms : Chestnut purée, garlic soy gel, and ground Edamame
Course 4: Blackberry, vanilla, orange, mint drink of goodness
Course 5: Elysian Fields Farm Lamb, brussel sprouts, wilted broccoli greens and some puree (potato?)
Course 6: Red Oak Lettuce: Honey vodka dressing with some cheese.
Course 7: Dulche de Leche Torte: Roasted cashew meringue, milk caramel mousse, coconut sherbet and coconut-orange foam
https://www.thesugarpixie.net/2011/09/01/hyeholde-chefs-tasting-dinner-in-a-castle/
Hyeholde Chef's Tasting : Dinner in a Castle
https://www.thesugarpixie.net/wp-content/uploads/2011/09/Hyeholde_2010.pic3_-1024x771.jpg
https://www.thesugarpixie.net/wp-content/uploads/2011/09/Hyeholde_2010.pic3_-300x300.jpg
Reviews
dinner,friends,Pittsburgh,Pittsburgh restaurants,restaurant reviews
In 2010, Dave and I were visiting family in Pittsburgh, PA and growing up in the area were looking for somewhere different to eat. 'Different' being no chain restaurants, nothing obvious ie: Mt. Washington, and somewhere we had not been before. We did the obvious search for 'romantic Pittsburgh...
thesugarpixie
thesugarpixie@gmail.com
Administrator
The Sugar Pixie