Coffee : Grind your own coffee beans (Pt. 3/3)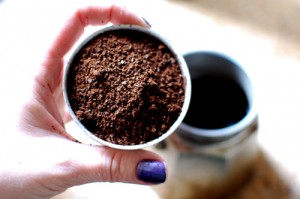 This is the last in a three part series about making your own coffee at home.
When possible, we like to buy whole coffee beans and freshly grind them. Everyone agrees it just tastes better, and nothing beats the smell of freshly ground coffee beans. To keep your beans fresher longer, keep in a cool, dark airtight container/place. If you buy in larger amounts you can keep in the freezer until you are ready to use. More storage tips via National Coffee Association USA.
Step 1 : Measure out the bean. I find out a tablespoon is size of a coffee scoop, but depending on how you like your coffee the amount may vary. To fill the basket a small espresso maker, measure about 3-4 tablespoonfuls of whole bean.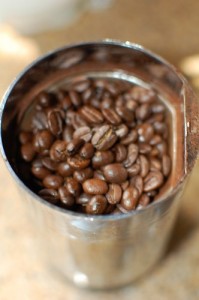 Step 2 : Pulse until finely ground.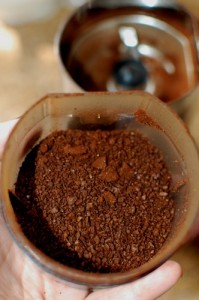 Step 3 : Add to your favorite coffee maker. Ours is our Italian Stovetop espresso maker. Read more in this post.