Nicky's Thai Kitchen – Pittsburgh, PA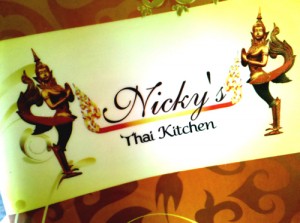 Since we moved back to Pittsburgh, we've heard quite a buzz about Nicky's Thai Kitchen. For a restaurant that's fairly close to us, we've had a hard time getting there. Finally, we put aside some time to go.
Hands down best Thai we've had, and I want to go back again, again and again.
Dave and I made a date for Nicky's Thai for Friday at lunch. We circled the block and found some parking near Allegheny Commons Park. Walking inside the restaurant felt like we were going to someone's house for dinner. We got there around 12:30 and the lunch rush was on. We had about a 15 minute wait for lunch, but they were serving hot tea to those waiting for a table.
The eating area is quite cozy and loud at lunch. We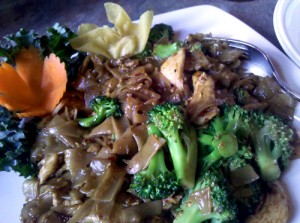 were seated near a window with lots of natural light pouring in. Dave and I looked over the menu and really wanted to eat everything. In the mean time, I noticed they had Thai Iced Tea on their menu so I excitedly ordered one.
For our lunch, Dave picked the Pad Thai, I decided to try the Phad See Eaw (see right). Our Noodle Lunches came with a soup or salad option, and we both had the house salad – which was both sweet and spicy. Served alongside our lunch was the tastiest crab rangoon I have ever had. Crispy outside and creamy outside.
My Phad See Eaw lunch was awesome. I'm salivating just thinking about it. The brocolli was had a nice crunch to it, and the 'medium' heat was a bit spicier than I anticipated, but still at a tolerable level to enjoy. Dave let me try his Pad Thai and it was equally well done. The flavors were perfect for both our meals and it was the right amount for lunch. There's always that fine line between should I take the rest home and be hungry, or finish it and be stuffed but Nicky's hits the mark.
We've easily tried more than a dozen different Thai restaurants in various places we've been at, but this place is #1 for both of us. If you're in the Pittsburgh area, definitely make a stop at Nicky's Thai Kitchen.
So I have to say, is it time to go back yet? How about now?