Pamela's P&G Diner – Millvale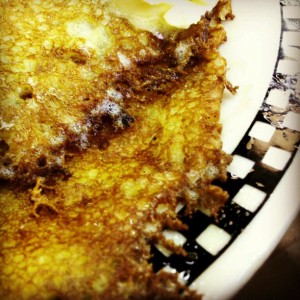 Pamela's. A staple since our college days for about 15 years now – wow, I feel old. Pamela's was always a must visit even on trips back home. You can't beat their unique crepe-style pancakes with the crispy outer edge and inner yummy pancake center. We normally hit up the one in Squirrel Hill but noticed Pamela's had another restaurant in Millvale (another untapped source of delicious restaurants we found.)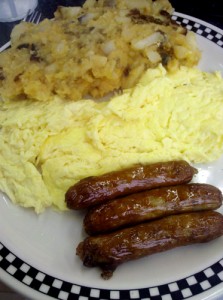 When you walk into Pamela's in Millvale, the building is split between diner and old timey pharmacy. At this location you can even get fizzy drinks (think Italian soda but no soda jerks.)  Tip: Pamela's only takes CASH – so make sure you have some before you wait in line. Tip 2: They have an ATM nearest to the door where you wait to be seated. (No need to wander the block for an ATM)
P&G Diner in Millvale had MASSIVE amounts of delicious foods for breakfast or lunch. I have to say next to the pancakes, their Lyonaisse style breakfast potatoes are simply heaven. Dave and I each ordered the "Big Lincoln" and my eyes popped out of my head when our plates arrived. (Totally beats IHOP's Pancake Combo in terms of taste, price and quantity of food). President Barack Obama knows what I'm talking about when I say Pamela's Pancakes are uniquely awesome.
Pamela's has a variety of locations in the Pittsburgh area. No matter where you're visiting, there's bound to be one near you. Check out the Millvale, or their other locations next time you're looking for a lunch or breakfast. I'm pretty sure Dave will be hitting this place up for lunch in the future, hopefully he asks me out on another date to join him!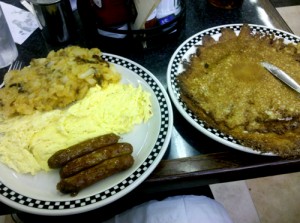 https://www.thesugarpixie.net/2012/05/07/pamelas-pg-diner-millvale/
Reviews
breakfast,pancakes,Pittsburgh,Pittsburgh restaurants,restaurant reviews
Pamela's. A staple since our college days for about 15 years now - wow, I feel old. Pamela's was always a must visit even on trips back home. You can't beat their unique crepe-style pancakes with the crispy outer edge and inner yummy pancake center. We normally hit up...
thesugarpixie
thesugarpixie@gmail.com
Administrator
The Sugar Pixie