Sistema Lunch Cubes on Sale at Aldi's: Week of 1/16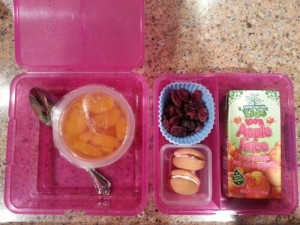 Quick! I actually squealed when I saw the Sistema Cubes on sale at Aldi's this week. They're a great way to ease into making lunch for your family! If part of your New Year's resolutions is eating healthier, or maybe even saving money get to your local Aldi's and save on Sistema Lunch Cubes (buy).They're only $3.99 and it seems they have some mugs for sale as well. Find your local Aldi's (Tip: Bring your own bags, quarter for the shopping cart and a method of payment that is NOT credit card!) Learn more about Aldi's – one of our favorite places to shop by visiting their website.
Here's a snap from one my daughter's lunches this week. In between two Nilla Wafers I spread a bit of cream cheese and Jelly. I popped a lid on it and it fit perfectly. (I ended up making these for both girls as a sweet middle of the week lunch treat.)
Then since you're saving some money, check out the Easy Lunch Box Mini-Dippers (buy) because they fit perfectly into the Sistema Lunch Cubes – SCORE! Look, all eight Mini-Dipper containers you get in a package fit into the Sistema Lunch Cube. Learn more about the Easy Lunch Boxes System and more by visiting their site at easylunchboxes.com.