Billy's Roadhouse – Wexford, PA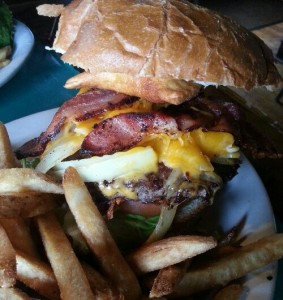 Dave and I needed a break from some projects around the house so we dropped the kids off with the grandparents and headed out to dinner. First we stop by Dive Bar and Grille and realized they were closed for a private function. One of the employees handed us a coupon for a free appetizer when we came back. Score!
We both popped open the Urbanspoon app on our phones to see what other types of restaurants were in the area. We both picked Billy's Roadhouse given the reviews and since it wasn't that far out of our way. I think we've only been here once or twice on a late night for drinks so we were excited to try the food!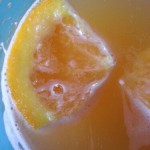 While we looked over the menu we ordered a beer. They have a great selection of beer on tap, but we opted for the Blue Moon and they put an orange in it! (Perfect way to have it.) We were both hungry for some wings so we ordered an appetizer of the Hot Garlic Wings. Dave ordered the Black Jack Chicken sandwich and I had the Pittsburger – a burger with bacon, and a PIEROGIE ON IT!
All the food was excellent.  There was no way I could eat all the fries so I took them home and made homefries the next day for breakfast – tasty! I can't wait to go back again and listen to some live music while drinking a beer, eating some wings etc. I see they serve breakfast too – what? This is definitely a must visit in the future.