Coca Cafe – Pittsburgh, PA (Lawrenceville)
I met Dave for lunch this week and I gave zero cares about how cold it was outside (single digit windchill) when I suggested we walk to lunch. There's a lot of great lunch options in Lawrenceville/Millvale areas, and it's really hard  to choose. I say bring on spring and walks to lunch!
I haven't been to Coca Cafe in awhile, but I was so excited to get back. They have varied hours for breakfast, lunch and dinner now – which is really exciting! The decor inside has a mid-century modern/Danish vibe, which I absolutely adore. There's cute/retro style kitchen items on shelves. The food is really fresh and flavorful and for any meal, you can't go wrong at Coca Cafe. So check it out if you're ever in Lawrenceville!
We went around 11:45am on a weekday and were able to be seated right away. The Grilled Cheese sandwich with Goat, Cheddar, Muenster, Gruyere, Tomato, Mushrooms, Balsamic Caramelized Shallots on Grilled Country White (I add bacon) is cheesy perfection. I rarely order foods that I could make at home, but who has all those types of cheese on hand – ever? So, so, so good!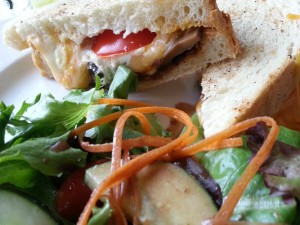 Dave speaks highly of the Banh Mi sandwich so I decided to give it a try. It's Shaved Pork Loin, Lime Zest Mayonnaise, Spicy Pickled Vegetables served on a Rustic Roll. I picked the salad dressed with balsamic vinaigrette as my side. The thinly sliced pork was nice and tender, and the roll was fresh and very soft. There was a subtle heat and crunch from fresh jalapeno, while lime mayonnaise had perfect cooling effect.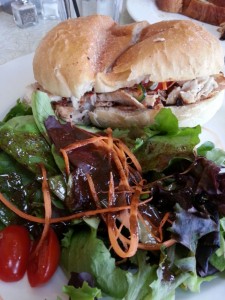 Dave ordered the Grilled Local Chicken sandwich. It had Melted Brie, Granny Smith Apple, and Fig Jam served on Toasted Challah. Risotta Cakes were the side of the day. I took a bite, not too bad, but the bread was pretty amazing. While we were eating lunch we saw a plate of the French Toast go by, and it was on the same thick bread. /droooool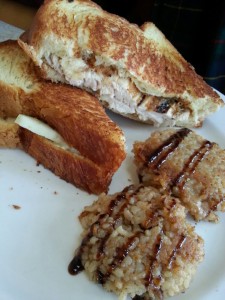 I hear Coca is a great place for brunch, but we haven't been yet but it is definitely on our list to try! It's also a short walk to one of our favorite coffee places – Espresso a Mano