Habitat Restaurant – Pittsburgh, PA (review)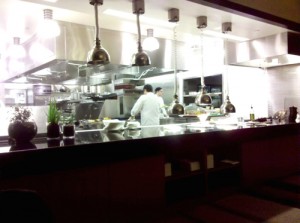 I mentioned in passing to a friend of ours about Pittsburgh Restaurant Week. We separately looked over the list of restaurants and Habitat immediately piqued our interest. What we thought was unique is that Habitat uses foods from the area and they're environmentally responsible. We asked a few other friends to join us and plans were made.
I'll admit I may have peeked and read a few tweets from other people  to see what they were having for lunch and dinners at Habitat – I was that excited about trying a new restaurant. Our reservations were made for the last day, in the last hours of restaurant week. That's how it goes when you're trying to coordinate about five different couples schedules. When the date finally arrived, our group of ten had dwindled to four.
The restaurant was pretty empty for a Sunday night, but we were escorted to one of the tables closest to the kitchen = Score! Everyone in the kitchen was calm and collected and I had my eyes fixed on all the food coming out. It was great watching the lone female in the kitchen prepare various portions of everyone's meal from appetizers to dessert. My friend Maria and I were mystified by the two large trays of mushrooms trying to figure out what the woman in the kitchen was going to do next. Spoiler: She was adding butter.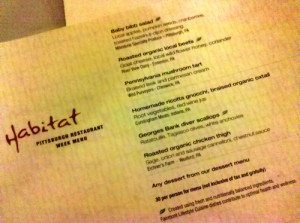 As we started looking over the menu my eyes were drawn to where many of the ingredients came from. I recognized where the beef came from because it was from a farm in the area I grew up in. That really means something and it's great to see this more and more when Dave and I go out.
The Meal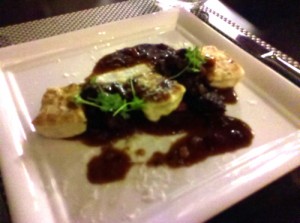 Three out of the four of us ordered from the Restaurant Week Menu. For appetizers we tried the Pennsylvania Mushroom Tart, Pork Belly and Roasted Organic Local Beets. The mushroom tart was really good, but I really liked the goat cheese that was on Dave's Roasted Beet Salad. So smooth and creamy and with the honey – really good.
For the entrees, at our table we had the Georges Bank diver scallops, Homemade Ricotta Gnocchi with braised organic oxtail and Habitat "one cow" burger. The scallops were cooked to perfection (the olives were an unexpected surprise), the gnocchi tasted pretty good, but seemed really large and dense. I fell in love with gnocchi when we had it at Bottega at Michael Chiarello's "Bottega" last May – utter perfection there. For my first time having oxtail, the jus was really, really tasty, and I could have just had a meal of that. The "one cow" burger was really – WOW, really impressive (did not get a chance to taste.)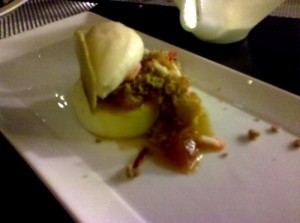 Finally for our desserts were were told we'd get to pick from the menu but then we were just served this layered chocolate dessert. It was okay, but I was so excited to get to pick from the dessert menu! (sad face) Then all of a sudden a second dessert appeared at our table, courtesy of the pasty chef! (Three cheers for the pasty chef!) What came out was called "Apple a Day". Thankfully there's a description of the dessert: "Calvados, sour cream pound cake, caramel apples, crisp streusel, Gala apple chips and Kistaco Farms apple cider sorbet"
Overall the food, service and atmosphere were great. I don't think we'll be going back, because for us it just wasn't 'wow.' Definitely fine dining, but there wasn't much that was memorable about the meal.
If you want to see really beautiful pictures of food vs. my in a dark corner smart phone pics, please go check out Foodcollage's post about Habitat.