Over the Bar (OTB) at the Boathouse
A new restaurant, Over the Bar at the Boathouse has opened up in the North Hills of Pittsburgh, in North Park to be exact. A few of us arrived on Thursday night – their second night of a soft opening. We walked inside looking for a waitress to seat us, and then we were told it was 'seat yourself.' In the crisp fall air we anxiously picked a table near the fire pit, plotting to take over the fire pit once it became available.
We looked over the menu and made some beer selections. I tried the Southern Tier 2x Rye and really enjoyed it. My other friends ordered a pumpkin beer, chardonnay, and a Blue Moon complete with an orange slice (thumbs up!) Next up were our food orders.
For my meal I picked the The Hard Tail Burger with fries. I opted to add cheddar cheese for an extra cost. The burger was cooked to order (perfect amount of pink for a medium on the inside, but a bit too much char on outside). Fries were seasoned well and stayed crispy in the cold.
While I was taking pictures of my meal one of my friends at the table offered up her fish tacos for a picture. I thought she was joking at first, but she insisted – so why not! Here's the fish tacos with the sauce on the side (per her request).
Just as we were finishing our food the fire pit finally opened up! Yay! It was pretty chilly as OTB overlooks the lake at North Park. The fire pit was really nice and looking forward to enjoying this again in the spring and summer next year!
Beer, lake view, food and fire, what more could you want?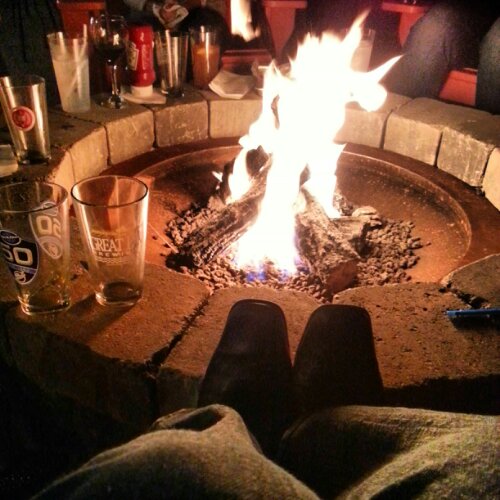 Even with a few soft opening hiccups (long wait for beer, wait staff getting familiar with the menu options and bringing out the right drinks) I look forward to going back here with my husband, kids and anyone else looking for a bite to eat after enjoying some time in North Park. Stop in, if you live in the North Hills of Pittsburgh!
Facebook: https://www.facebook.com/otbnpboathouse
Twitter: @otbnpboathouse