Kelly O's Diner: Wexford, PA and Downtown Pittsburgh, PA
I love finding great diner food, and wow do we have a lot of delicious options here in the Pittsburgh area. Kelly O's Diner has been on Guy Fieri's Diner's, Drive-Ins, & Dives on the Food Network. Well finally, FINALLY, FINALLY went to Kelly O's – both locations! It was so good the first time, we naturally wanted to try her other location!
Here's a clip of Kelly O's from Guy Fieri's show. All I can say is: Deep Fried Mush (deliciousness I remember from growing up in Pennsylvania).
Everything on the menu sounds delicious. I opted to mix things up because I wanted to try the Grilled Cinnamon Roll that was written up in a Pittsburgh Magazine article. It's made with Cinnamon Rolls from Oram's Donut shop in Beaver Falls, PA), which I hear is AWESOME and on our foodie road trip list.
I ordered Kelly O's Lil' Bite, which allowed me to have a little bite of everything. (One egg, one slice of bacon, homefries/or shredded potatoes and one slice of Mancini toast). The bread from Mancini's Bakery was soft, and crunchy at the same time. (If you live in Pittsburgh, you need Mancini's bread in your life for almost anything!) This Lil' bite was perfect for lunchtime.
Everything was seasoned and cooked perfectly. I'm drooling just writing about this! The cinnamon roll had the right amount of sweetness and the edges were nice and crispy. A must have if you go! (Heck, take it to go! I took at least one slice of the Grilled Cinnamon Roll home with me, and it reheated perfectly!)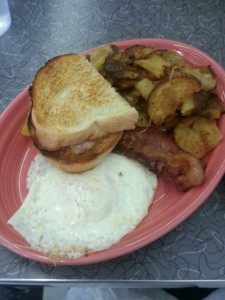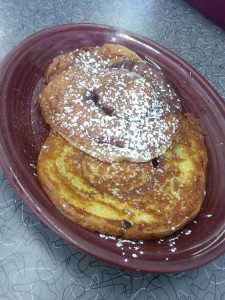 A few weeks later, I met Dave for lunch and we opted to go Kelly O's in the Strip District. Dave had Bob's Hot (or Sweet) Sausage Omelet. It's an omelet with hot or sweet sausage, and your choice of cheese. Served with homefries or shredded potatoes and a Mancini's toast. (For an additional cost, you can add extra meat or vegetables.)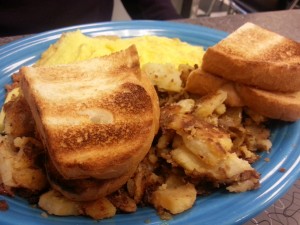 I was hungry for eggs benedict, but the ham not so much. Fortunarely there was the Vegetarian Eggs Benedict. Two eggs served over roasted red peppers, onions and baby organic spinach, and pictured are the homefries (my favorite!). The Hollandaise was more butter than lemon tasting, overall one of the better restaurant sauces I've had. Thumbs up!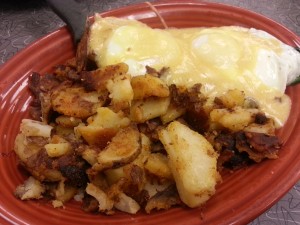 If you're looking for good old American/Southwestern Pennsylvania style food, Kelly O's is your place!