Coming off the heels of the whiskey tasting I decided it was time to share one of our favorite family recipes – Derby Pie! This pie is a decadent blend of pecans, chocolate and bourbon. I remember the first time I had it, I simply could not get enough of it. A small piece goes a long way since it's so rich and tasty. It is more than just a chocolate pecan pie. The glazed look of the pecans, the gooey chocolate center and hint of bourbon served with a strong cup of coffee is what wins people over every time.
We decided to share this decadent treat with our foodie friends.  It was the perfect ending to our family photo shoot (Aperture Media Studios) and meal with Pete and Christey over @fotocuisine. Of course there was much reminiscing about our adventures at the whiskey tasting too!
Aspiring to Pie-fection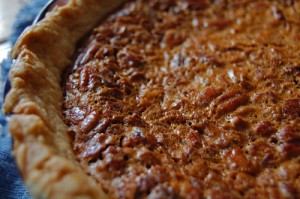 In looking to tweak the recipe over the last couple years I kept turning to the internet to look for other ways to make the pie. Each search kept sending me back to THE Derby Pie – trademarked name, continually renewed since 1969 (Wikipedia cite). Turns out, this is another family recipe too, so loved in fact they had to pick the name DERBY-PIE® from a hat to determine what it would ultimately be called. From what I can tell, our pies look similar and may in fact contain similar ingredients, but based on looks alone I would prefer my pie in my tummy.
In the humid climate of Florida we have found that doubling the flour reduces some of the liquidity of the pie. There have been some unfortunate, but yummy soup pies made as a result of this. If one would like a bit more of the bourbon taste, you can up the bourbon just a bit, but it can be overpowering if doubled. For our more daring readers I made my own corn syrup for (not this particular pie) only because we did not have any corn syrup in the house. (I was planning on making a key lime pie for a friend, but the juice I got had gone bad!) The homemade corn syrup really did give the pie a slightly different taste too. It was all very clean on the pallet – so, so delicious! Perfect with a cup of coffee.
Kentucky Derby Pie
4 Eggs, beaten
3/4 c White sugar
1/4 c Brown sugar
1 Tsp. Vanilla
1 c White corn syrup
1 Tbs. Flour (add an extra 1Tbs for humid climates)
2 Tbs. Bourbon (Maker's Mark used)
1 c Pecans (rough chop)
1 c Chocolate Chips
1 Pie Shell (Deep dish 9″, or 10″ regular)
Directions:
Pre-heat oven to 350 degrees.
Combine the eggs, sugars, vanilla, corn syrup, flour and bourbon and mix well.
Stir in pecans and chocolate chips.
Pour into pie shell and bake for 40-50 minutes. Pie should be done when the center of the pie looks mostly set.
Allow pie to sit for a few hours to cool, or overnight.
Reheat pie slices for 10-15s in the microwave to get all yummy and gooey!
Homemade Corn Syrup (from Cooks.com)
Makes 1 cup

1 c White sugar
3 oz Water
1/8 tsp Cream of tartar
Dash of salt
Combine all ingredients in a heavy, large pan. Stir and bring to a boil. Reduce heat to a simmer and put cover on it for 3 minutes to get sugar crystals off the sides of the pan. Uncover and cook until it begins to thicken slightly. (To just about the consistency of corn syrup)
Cool syrup and store in a covered container at room temperature. It will keep for about 2 months.
PS: Edited this post title so not as to cause any confusion with the trademarked name Derby Pie on 2/23/2010.
Pin It