Mini-Cherry Pies for Pi Day
Happy Pi Day 2017 all! I finally made some pies for D to take in to work for Pi Day (March 14 = 3.14). There's a variety of mini-pie recipes on the internet. These pies are infinitely easier with store bought crust, but taste much better with an easily made homemade crust. The crust recipe I used for these pies comes from Martha Stewart, which I have used before. The Easy Pie Crust is super easy, and works with the metal or plastic dough blade on the Cuisinart. (If you're still waiting for your blade from the recall.)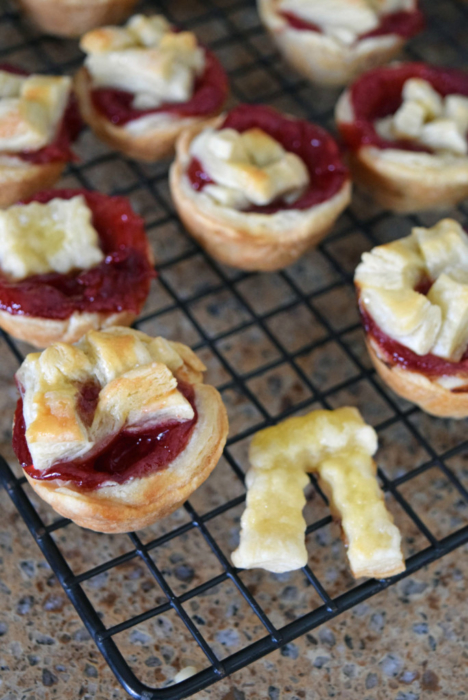 Roll out pie crust dough or roll out store dough. Cut with a biscuit cutter. The Norpro stainless biscuit cutter I used measures 2.75″ across and it's the perfect size to cut dough for mini-muffin tins. I also really like it because there's an insert if you want to make donuts with it. It cleans up super easy in the dishwasher. (Link to buy)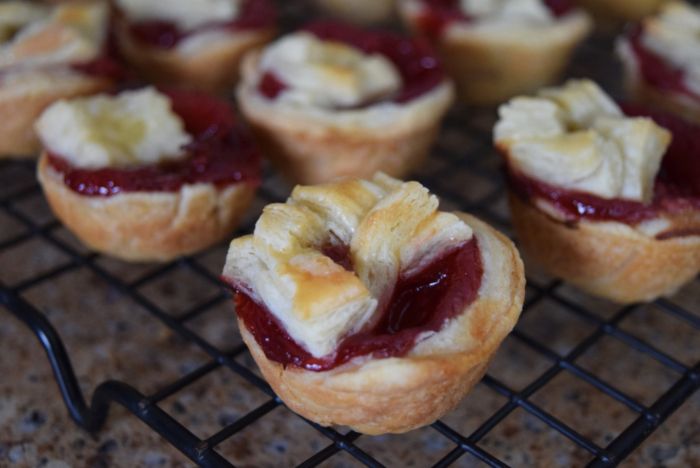 After you have cut however many pies you want. The Martha Stewart recipe made enough for about 36 pies with decorations. If you want a simpler decoration you could probably make more. I'd say any amount of dough that makes one 9″ pie would yield the same results.
Fill with your favorite cherry pie filling. America's Test Kitchen generally rates Lucky Leaf pie fillings very highly, so I gave it shot this time around. I'm not a fan of the Red 40 in it, but wow did the filling taste great! Nice and smooth cherry flavor, whereas other fillings are very, very tart. Definitely worth the bit of splurge. I'd also say 1-2 cans of pie filling should be good enough, you might get might with one can. I see Lucky Leaf also makes a Dark Cherry Pie Filling which would be fun to try!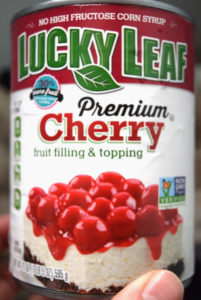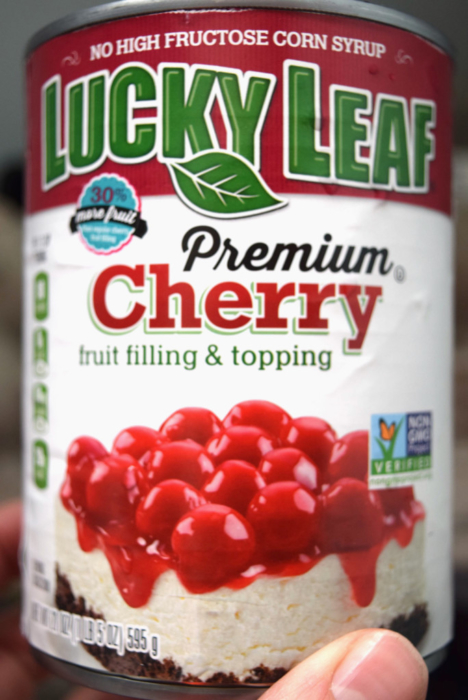 Here's some pictures with and without decorations.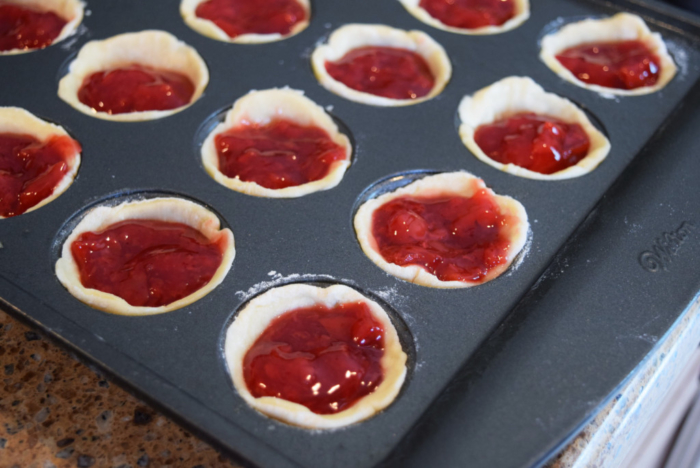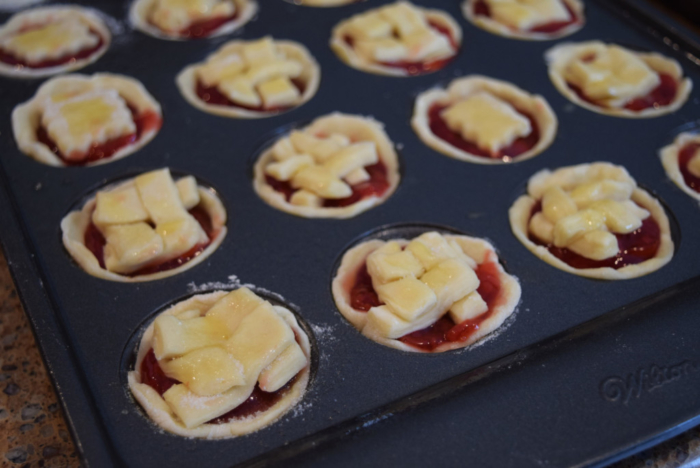 Enjoy!

Mini-Cherry Pies for Pi Day
Fun mini-pie recipe
Ingredients
Easy Pie Crust via Martha Stewart. Can be made up to 3 days ahead.
2½ cups all-purpose flour
1 teaspoon salt
1 teaspoon sugar
2 sticks chilled unsalted butter, cut into pieces
Mini-Cherry Pies
1-2 (2-count) packages refrigerated pie crusts OR Homemade pie crust recipe (enough for 1-9" pie with top and bottom crust)
4 cups or 2 large cans pie filling, you pick (Optional: use stick blender to blend about half the filling so enough for 1-2 whole cherries if desired).
1 egg, whisked with a splash of water
Optional: White sugar
Instructions
Easy Pie Crust (skip to pie directions if buying store crust. Increase prep time as needed.)
To make dough for pie crust mix 2½ cups all-purpose flour and 1 teaspoon each salt and sugar in a medium-size bowl. Cut 2 sticks chilled unsalted butter into pieces. With a pastry blender, cut in butter, working until mixture resembles coarse meal. (Optionally: PULSE ingredients in a food processor with metal or plastic dough blade)
Add 4 tablespoons ice water; work with hands until dough comes together. If dough is still crumbly, add more ice water a tablespoon at a time (up to 4 more tablespoons). Do not overwork. (Optionally: PULSE water in gently until dough comes together)
Divide dough in half, and flatten halves into disks. Wrap disks separately in plastic; refrigerate at least 1 hour.
Roll the dough on a floured surface, use as necessary.
Mini-Cherry Pies
Preheat oven to 350°F. Grease a 24 mini-muffin tin with non-stick spray.
Roll out pie crust dough on flat surface. Use a 3" cookie or biscuit cutter and cut dough circles.
Gently press each circle of dough into bottom of mini-muffin tin cup. Leave a bit of extra dough around rim of the cup. Repeat as needed.
Gently prick each mini crust once with a fork. (Place in fridge if you like, or need time to make decorations.)
Fill each cup with a heaping tablespoon until almost full.
Decorate as desired with extra pie dough (lattice, cut shapes, mini-top crusts with slits cut in etc.)
Gently use a pastry brush to brush the tops of each pie with the whisked egg and water. Sprinkle lightly with white sugar if desired.
Bake for 25-30 minutes, rotate once half-way through.
Remove from oven and allow to cool about 15 minutes.
Gently remove from each pie from tin with a knife or thin metal spatula. Allow further cooling on a cooling rack.
Serve or store in refrigerator for 1-2 days.
Save
Save
Save
https://www.thesugarpixie.net/2017/03/14/mini-cherry-pies-for-pi-day/
https://www.thesugarpixie.net/wp-content/uploads/2017/03/piday_minicherry-e1489505801526.jpg
https://www.thesugarpixie.net/wp-content/uploads/2017/03/piday_minicherry-e1489505801526-150x150.jpg
Recipes
cherry,national pie day,pi,pi day,pie
Happy Pi Day 2017 all! I finally made some pies for D to take in to work for Pi Day (March 14 = 3.14). There's a variety of mini-pie recipes on the internet. These pies are infinitely easier with store bought crust, but taste much better with an easily...
thesugarpixie
thesugarpixie@gmail.com
Administrator
The Sugar Pixie