Road Trip Food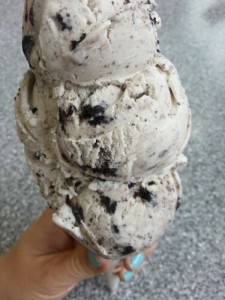 Looking for a quick getaway before school starts, why not plan a food road trip? We headed up to northeastern Pennsylvania to visit family for a few days and indulged in some new and favorite foods of ours along the way. I saw this article on National Geographic a few weeks back about food road trips and thought – what a brilliant idea. I mean, it's not really a foreign concept to our family to stop and try the local food like eating every possible key lime pie while driving through The Keys (must do! Fried and Black Bottom are my favorite.)
Doughnuts
For me, every summer growing up our family headed to Ocean City, MD. Before we got on the turnpike, we would stop and pick up a dozen donuts at the Mister Donut/Donut Connection. It'd be dark, about 4AM and my mom or dad would walk with many of our favorites. Each of us had flavor or style we preferred, and we would eat them when we got to the first rest stop about two hours into our trip. Sometimes we meet up at a certain rest stop to say hello to my grandparents/aunts/uncles/cousins whoever else we were going to the beach with. A few hours later we would repeat the same thing, usually having a second donut beside the Black Eyed Susans at the Maryland Welcome Center.
For our roadtrip, we stopped at Dunkin Donuts. Ever since we left Florida, the Double Chocolate Donut at DD has been on my radar to get. It's a pretty standard donut, but everytime I visit (like once every 3-4 months) our local DD it's never there, NEVER. These were one of my worst pregnancy cravings (with a decaf coffee), and I love them so much, and so must everyone else because I can never find them!!!!
I had a theory, maybe if we stopped at DD near a super populated area – like off the turnpike and near a manufacturing place (MSA Murrysville) they would surely have the donut of my dreams. Oh they did…and SO many more! The girls and I had these Double Chocolate Donuts with sprinkles and Dave had the Chocolate Glazed. I swear the Double Chocolate Donuts used to be glazed AND had icing too.
While we were eating I explained to the girls that every time mommy's family would go on a vacation/roadtrip we would stop and get donuts. Then the girls asked if we were getting MORE donuts to go…sorry girls. Anyways, I took a picture, so it would last longer you know?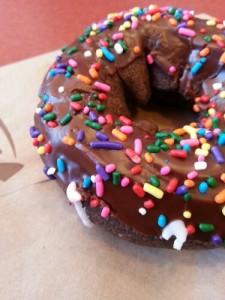 The Berkey Creamery at Penn State
http://creamery.psu.edu/
A few hours later we made our to State College, and when you're in the Happy Valley what do you do? GET ICE CREAM! This was my first trip to the all hallowed Creamery on Penn State's Main Campus. It was a pretty chilly day outside by summer standards, but we were determined to have some ice cream. We parked in the nearest parking garage, 30 minutes and your parking was free. (I started a timer on my phone, in retrospect I would have just paid for the parking so we weren't rushed.) We went inside the coldest ice cream place I have ever been to, the girls agreed and said out loud a few times too. The Berkey Creamery at Penn State has a ton of flavors to pick from. I opted for Cookies and Cream, the girls got Chocolate and Dave got Death by Chocolate. The servings were HUGE – three fist sized scoops teetering on a cone, the girls got theirs in a cup. You definitely can't beat the price of the ice cream, and they have milkshakes too. It was really good ice cream, and you even pass many of the cows they use to make the ice cream.
As a University of Pittsburgh graduate, I'll confess…Penn State has ice cream going for it. I'll set aside team rivalries for now. I would definitely come back here again.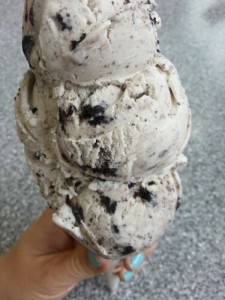 Diner Dinner and Pie – Dean's Diner
What's a road trip without diner food? On our way back to Pittsburgh we stopped at Dean's Diner. I don't know how many times we passed this place going to camp growing up, or visiting family but it's only been since we moved back have we stopped here more frequently (read like 1-2x a year). Their pie is the bomb, so you must save room for one of their 15-20 pie options. I got the special of the day Creamed Chicken over Biscuits and opted for veggies and mashed potatoes, the girls each got a hot dog, and Dave had the Pizza Burger. My chicken and biscuits were so goooooood, and the Pizza Burger was tasty and unique. There's no sauce on it like a pizza, but the burger tasted like a pizza with the seasonings, I may have to try that next time. Got to the love the prices too, save money and room for pie!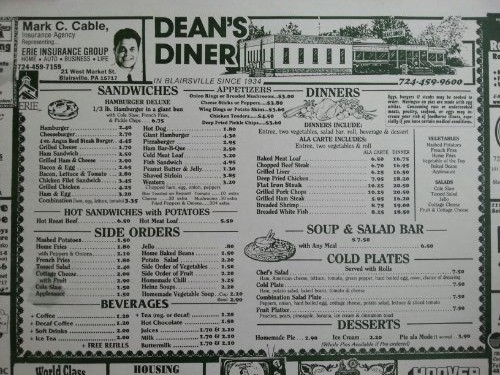 We decided to split three pieces of pie between the four of us. The waitress rattled off a long list and somehow, we all managed to agree on some slices after some thoughts. We tried Butterscotch Pie, Graham Cracker Pie (like Key Lime Pie without the Lime?) and Chocolate Cream Pie (a perfect meringue on top). Our daughter gives the Butterscotch Pie a big thumbs up!
Shoofly Pie – Amish Country
When in Amish country, you need to try Shoofly pie. Shoofly pie is a molasses pie that comes in a wet or dry version (depends if you like a stickier pie, or something closer to a gingerbread pie.) This was the closest we got to the pie and I brought home a small one from the bakery near our hotel. I asked if it was a wet or dry pie, and they honestly answered it somewhere in between. I remember many shoofly pies from our trips to Lancaster growing up, so I was excited to share this with my family since it had been forever.
It was a pretty good pie, the girls and I liked it – Dave tried some and said I could have the rest! The crumb topping was excellent and messy, the inside had a nice spice too it.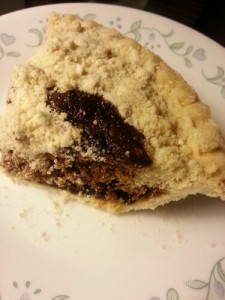 So now the planning begins to track down a Tim Hortons, you know for coffee and doughnuts and maybe a side trip to a park! What's your favorite road trip? Favorite road trip food?
https://www.thesugarpixie.net/2013/08/07/road-trip-food/
Road Trip Food
https://www.thesugarpixie.net/wp-content/uploads/2013/08/wpid-20130725_122019.jpg
https://www.thesugarpixie.net/wp-content/uploads/2013/08/wpid-20130725_122019-300x300.jpg
Family
Reviews
diner,ice cream,pie,restaurant reviews,roadtrip
Looking for a quick getaway before school starts, why not plan a food road trip? We headed up to northeastern Pennsylvania to visit family for a few days and indulged in some new and favorite foods of ours along the way. I saw this article on National Geographic a...
thesugarpixie
thesugarpixie@gmail.com
Administrator
The Sugar Pixie