Finger Friendly Foods for a Salon Birthday party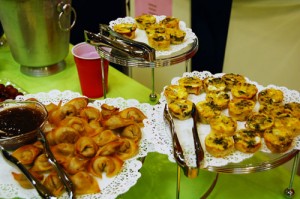 In June, my friend Cherie turned the ever so fabulous 40 (which is the new 30)! Her husband ever so sweetly asked if I would be interested in catering some items for the event. It was my first time doing such a task, but I was happy to oblige and fit it into my schedule for a friend! We were keenly aware since most of the guests would probably getting manicures that the food should be 'finger friendly.' I tried to come up with things that were not too messy and could be eaten in one bite maybe with the help of a toothpick or fork.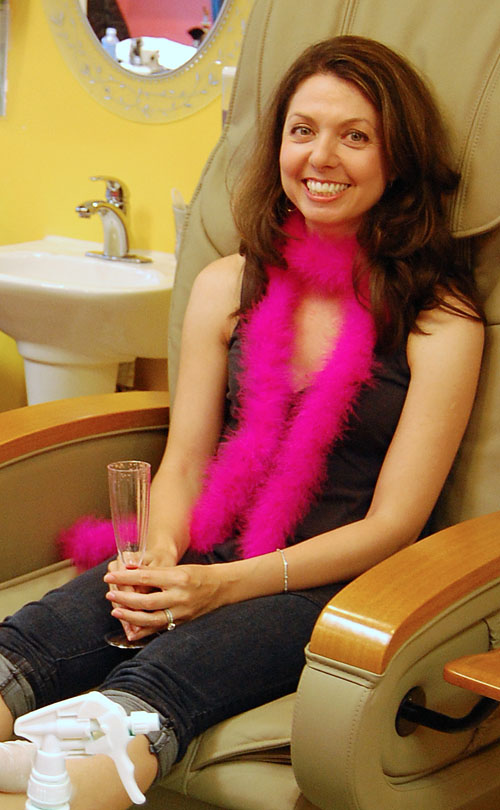 I love making food for parties, but this was the first time I ever had to make all the food and take it somewhere else. I was nervous and excited all at the same time. After watching many an episode of Top Chef where items are perfect in the kitchen but turn into a disaster at service I was careful to think of ways to safely transport everything to the tiny nail salon so it arrived in the same condition it left the fridge or oven in. Thankfully everything arrived in the same condition it left my house in, with maybe a minor cupcake casualty or so!
I went to the party store to pick up napkins and plates, but also to look over all the steamer/baking trays. So many different heights and weights to choose from. I always thought they were the same aluminum pans in the store but they are different. The lids had these nifty pulls to help with opening and extra foil on the sides to close the lids along with tiny holes to let the steam out. So I am easily amused!
A couple of emails back and forth between Cherie's husband and I and a menu was born.
Menu:
Crispy Chicken Wontons with Orange Dragonfire sauce
Caprese appetizers
Cheese and fruit assortment
Pomegranate Bellini's – supplied by the birthday girl's wonderful husband
Appetizer approximations:
I went online searching for appetizer approximations before I went shopping. I did not want to have too much or worse, not enough for the approximate twelve guests. According to What's Cooking America's site:
The rule of thumb for smaller gatherings is that 3 types are suitable for 8 to 10 guests; 4 or 5 for 14 to 16 people.
Schedule
The party was on a Tuesday evening so I spent a good portion of Monday preparing and baking as much as I could, because Tuesday would involve a lot of last minute baking, prep and packing.
Saturday/Sunday
Shopping for table goods and food supplies
Monday
Baked cupcakes and made frosting
Poached chicken
Prepared and baked quiche
Tuesday
Morning

Orange Dragonfire Sauce
Wonton filling

Afternoon

Iced and decorated cupcakes
Caprese appetizers
Fruit/cheese tray
Assembled and baked wontons
Baked quiche
Mini Spinach Mushroom Carrot Quiche
Yield: 24 appetizers
Use the same recipe as Spinach, Mushroom and Carrot Quiche, but finely dice everything.
Form small square of crescent roll dough into bottom of mini muffin cup
Place filling – minus egg and cheese mixture into muffin cup
Gently fill with egg/milk/cheese mixture
Bake 12-15 minutes until lightly browned.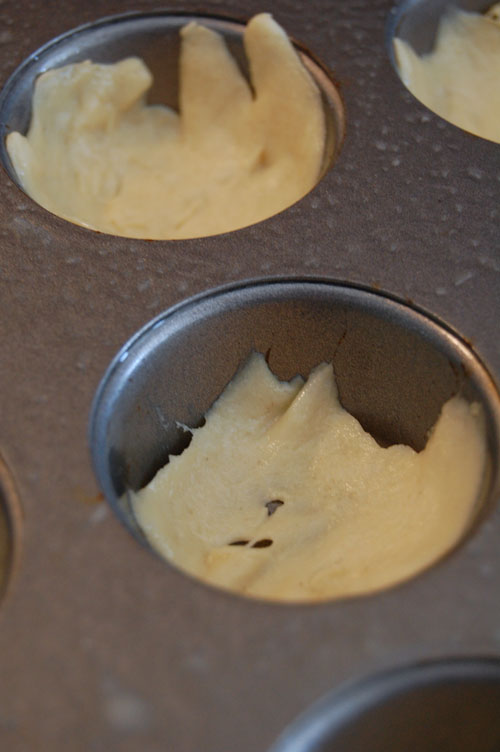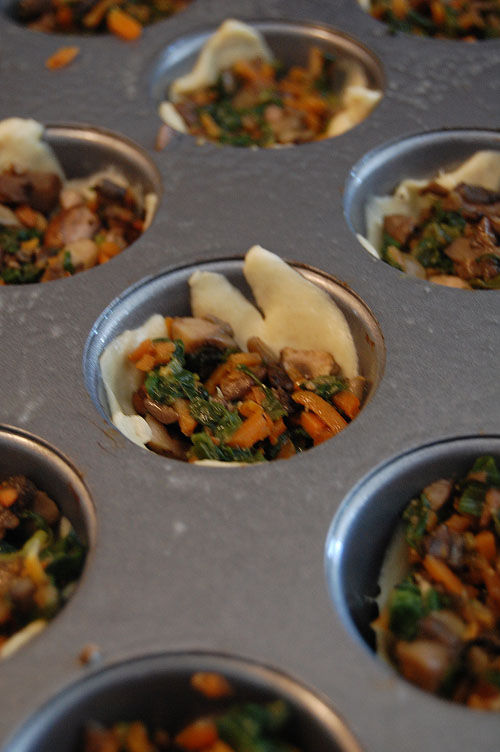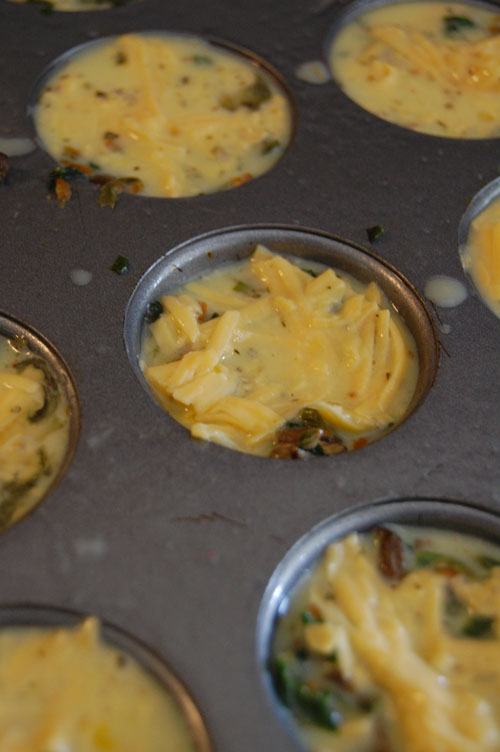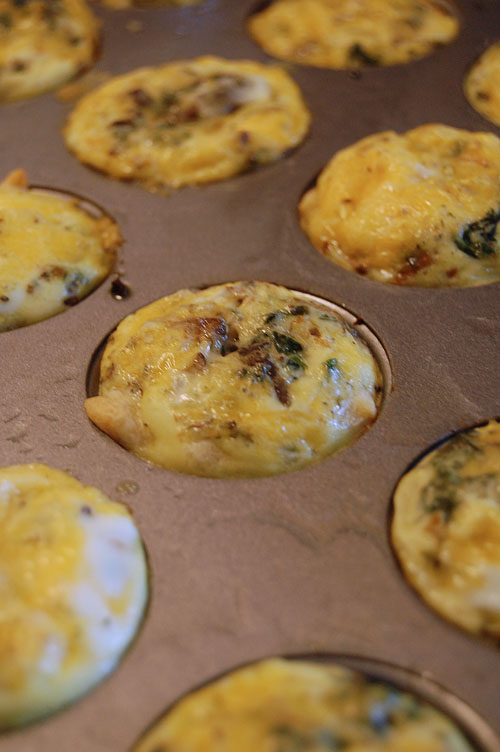 Crispy Chicken Wontons
Yield: 48 wontons
3 cups Chicken – Cooked and finely chopped
1/2 cup Carrot – finely chopped
1/4 cup Water chestnuts – finely chopped
2 teaspoons Cornstarch
1 tablespoon Water
1 tablespoon Soy Sauce
1 teaspoon ground ginger
1 (16 ounce) package Wonton wrappers
2 tablespoons Butter or margarine, melted
1 tablespoon Vegetable oil
Plum or sweet-sour sauce (or make your own, see below)
Video: How to fold a wonton
Directions
Cook (poach) approximately 3 chicken breasts in a pot of water. Drain, allow to cool and finely chop.
In a bowl, combine chicken, carrot and water chestnuts.
In smaller bowl, combine cornstarch, water, soy sauce and ginger until smooth.
Add liquid mixture to chicken mixture; toss to coat.
Portion 1 teaspoon of filling into the center of each wonton wrapper. Moisten edges with water. Bring opposite points together; pinch to seal.
Place on lightly greased baking sheets.
Combine butter and oil; brush over wontons.
Bake at 375 degrees for 10-12 minutes or until golden brown.
Serve with plum or sweet-sour sauce.
*Tip: If you have leftover filling, mix with a little bit of mayonnaise. Makes for an awesome asian chicken salad!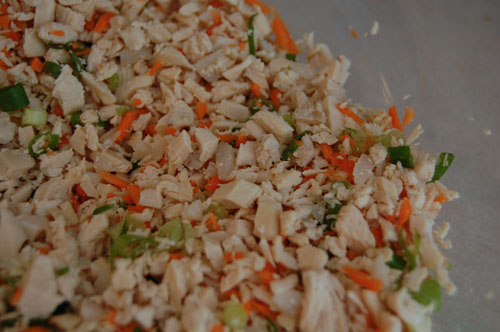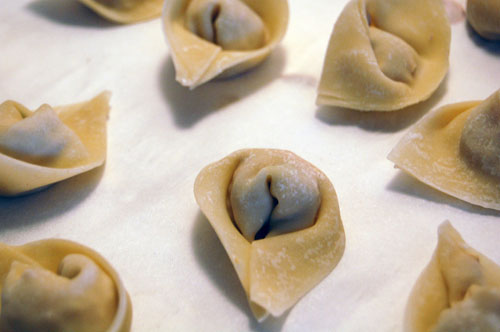 Orange Dragonfire Sauce
I don't have an exact recipe for the sauce because it was a combination/inspiration of two different sauces I love. One is sweet and the other is a bit more spicy.
Mini Caprese Appetizers
Yield: About 20-36 appetizers (Depending on your package of tomatoes/mozzarella you could easily get 36
Small bamboo skewers or toothpicks
1 pint sized package Grape tomatoes
1 small package Mozarella pearls (see case's near your deli's cheese area)
Fresh basil leaves
Salt
Pepper
Olive oil
Red wine or Balsamic vinegar
Directions
Soak toothpicks or skewers for about an hour in water.
Thread tomato, basil leaf and mozzarella pearl onto skewer.
Lightly season with salt and pepper
Optional: Lightly drizzle with a mixture of equal parts vinegar and olive oil.
Serve at room temperature for best taste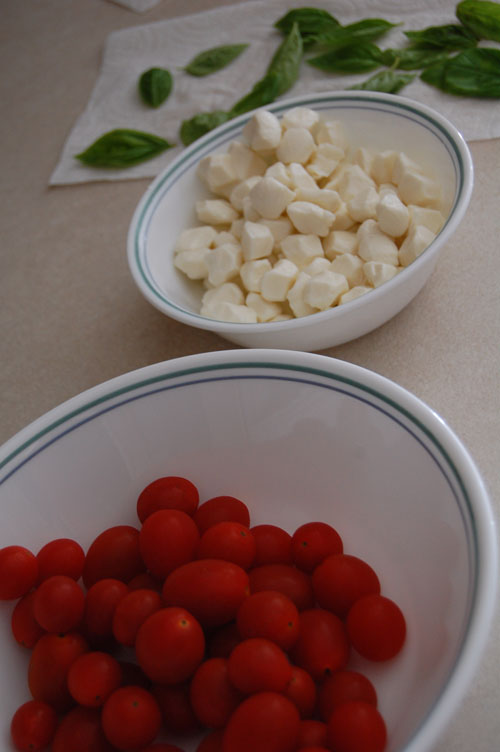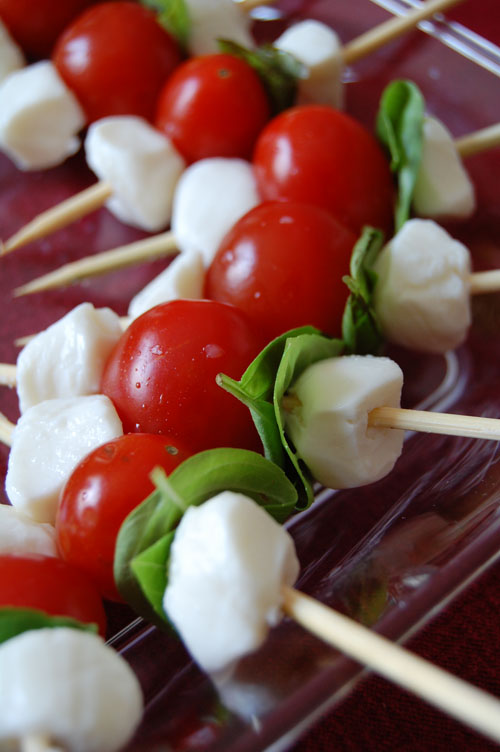 Cherie's husband – Eldon picked up a cake for her as well! Happy Birthday Cherie!!! Sorry this post is SO late!

https://www.thesugarpixie.net/2010/07/26/finger-friendly-foods-for-a-salon-birthday-party/
Appetizers
appetizers,asian,chicken,chocolate,dessert,easy,friends,mini
In June, my friend Cherie turned the ever so fabulous 40 (which is the new 30)! Her husband ever so sweetly asked if I would be interested in catering some items for the event. It was my first time doing such a task, but I was happy to oblige...
thesugarpixie
thesugarpixie@gmail.com
Administrator
The Sugar Pixie