Chocolate-Avocado Pudding
Chocolate pudding is a favorite here in our house, however, it either comes out of a box or I am spent hunched over a stove stirring, stirring, stirring waiting for ingredients to thicken. This pudding is neither of those, in fact it's probably closer to hot chocolate or guacamole. GUACAMOLE??? (No, do not sub guac in this recipe, just trust me on this. I tried, it failed – terribly.)
Yes, this recipe has avocado in it, and it's crazy easy to make – with a food processor. You might be able to make it in a super fancy blender, but I feel you get a great emulsion of the ingredients by using the food processor. Maybe a stick blender? Give it a go with what you have on hand, you never know right?
If you're really trying to find the differences between this and a traditional pudding you might find it. My husband (super taster) is convinced it tastes a little different, but the kids and I had a hard time finding the super subtle differences as we carefully devoured this treat. It is very luscious and chocolatey, and I will oh so make it again, perhaps with some cayenne mixed in for a bit of sweet and spicy. I am tempted to either up the cocoa powder or scale back the sugar a bit since we like to taste the bitterness of the chocolate a bit more.
Enjoy!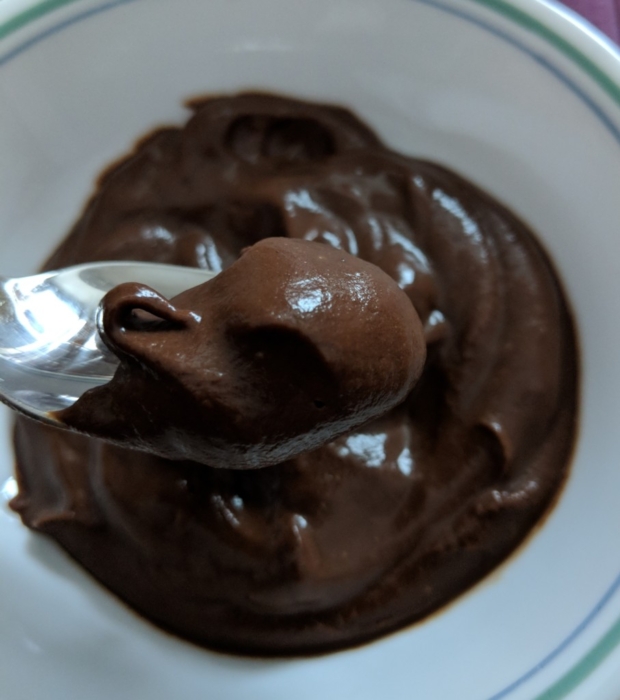 Chocolate-Avocado Pudding
Luscious chocolate pudding made a bit healthier with avocado.
Author:
thesugarpixie, as seen on America's Test Kitchen
Ingredients
1 cup water
¾ cup (5¼ ounces) sugar
¼ cup (¾ ounce) unsweetened cocoa powder
1 tablespoon vanilla extract
1 teaspoon instant espresso powder (optional)
¼ teaspoon salt
2 large ripe avocados (8 ounces each), halved and pitted
3½ ounces 70 percent dark chocolate, chopped (or semi-sweet chocolate, chopped)
Instructions
Combine water, sugar, cocoa, espresso powder (if using), and salt in small saucepan. Bring to simmer over medium heat and cook, stirring occasionally, until sugar and cocoa dissolve, about 2 minutes.
Remove saucepan from heat and add vanilla.
Scoop flesh of avocados into food processor bowl fitted with a blade. Process until smooth, about 2 minutes. Scrape sides as needed.
While processor is running, slowly add a steady stream of the warm cocoa mixture into the pureed avocado. After about 2 minutes, the mixture should be glossy and smooth.
Place chopped chocolate in a microwave safe container, and cook at 50 percent power or in 30 second intervals until completely melted. May take 2-4 minutes.
Add melted chocolate to avocado mixture (removed lid to add). Process for at least a minute until all ingredients are well incorporated.
Transfer to a clean bowl, and cover. Refrigerator until chilled, at least 2 or up to 24 hours.
Garnish and serve as desired.
https://www.thesugarpixie.net/2018/02/04/chocolate-avocado-pudding/
https://www.thesugarpixie.net/wp-content/uploads/2018/02/IMG_20180204_132956.jpg
https://www.thesugarpixie.net/wp-content/uploads/2018/02/IMG_20180204_132956-150x150.jpg
Recipes
avocado,chocolate,dessert
Chocolate pudding is a favorite here in our house, however, it either comes out of a box or I am spent hunched over a stove stirring, stirring, stirring waiting for ingredients to thicken. This pudding is neither of those, in fact it's probably closer to hot chocolate or guacamole....
thesugarpixie
thesugarpixie@gmail.com
Administrator
The Sugar Pixie