Peanut Butter Sriracha Cookies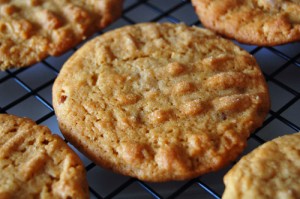 Sometime within the last year there was a cookie competition on the Food Network. The final challenge was to incorporate a savory component into a cookie, and one of the selections was Sriracha. The woman competing was already going to make a peanut butter sandwich cookie, but since she had to add a savory component she added what seemed like an obscene amount of Sriracha to her peanut butter sandwich cookies. The end result? The judges went wild over it! I haven't been able to find a recipe for them, until now.
What is Sriracha
It's a sauce/condiment made of paste of chili peppers, salt, sugar, vinegar and garlic. Also sometimes known as rooster sauce, since there's a big rooster on the bottle.  Sriracha is commonly found in asian restaurants but don't be surprised if you see it in the aisle of your favorite grocery story next to the asian goods or even ketchup! It's used as frequently as ketchup in our house.
Peanut Butter Cookie Remix
My first step in creating these treats was to first find a peanut butter cookie recipe I liked. I read through quite a few, even looked at friend Fotocuisine's (100 yield cookie recipe!) until I found a recipe I wanted to try. For never making peanut butter cookies before, I was pretty particular about how I wanted them to be! I like the edges just a tad crispy, but the middle to be chewy. I selected a recipe from Allrecipes (original recipe) that seemed to fit my criteria and got to remixing!
As I read through the recipe reviews there were some immediate tweaks to the recipe I wanted to try, for example more peanut butter, add some vanilla and increase the flour amount. Since I wanted to add sriracha to the mix I wasn't sure how much I should start with. I grabbed a teaspoon, then a tablespoon and just decided to start with 1/4 cup measuring cup.
My intent was to taste the batter before I added the eggs and remaining dry ingredients. So after creaming the butter, sugar and peanut butter together I fearlessly added the sriracha and could already smell the heat. I took a taste and could definitely feel it in my mouth, but it wasn't painful so I let my husband try since his tolerance is a lot higher than mine. He was shocked at how spicy it was. So I proceeded to finish the recipe, tasted the dough and heat was perfect. Off to chill the dough for an hour. Cue….Waiting is the hardest part….
I pulled the dough out of the fridge and after I removed the saran wrap my nose was filled with the scent of the sriracha. Still I was a bit worried they'd either be too spicy or not spicy enough, but the only way to tell would be to cook them.
Testing the Spicy Perfection
Initially you don't taste the sriracha, but then this wonderful gentle heat envelopes your tongue and you get the hit of peanut butter too. Then it goes away after a few minutes. We gave these to the kids to try and our 4 year old seemed to enjoy them, while our 2 year old spit it back out immediately.
My friend @SimplyKellyD – Simply Kelly Designs (digital scrapbooker) lives less than five minutes away, and since I've been talking about trying these cookies for forever, I set aside a dozen and she came over to pick them up for testing! Here's what she DM'ed me on Twitter when I asked if she shared: "your cookies are a *hot* (pun intended) topic… I couldn't help myself!" She shared these cookies with her daughter who liked them, then immediately RAN for the water!
I wanted to see if I could tone down the heat and maybe add some extra flavor. So we tried the cookies with a bit of Nutella on them and they were equally excellent, so maybe if you're looking to cut the heat try adding some mini-chocolate chips to the batter. Marshmallow fluff in the middle? The ideas are endless!
So spice up your holiday cookie exchanges with these cookies. Can't wait to hear what everyone thinks!! Enjoy!!!
Added Note: These cookies ARE spicy/hot whatever you want to call it. My heat tolerance peaks at just around the 'hot' level of salsa, wing sauces, taco sauces etc. Sometimes hot is too hot for me, but for me these cookies warm the tongue for a few minutes and goes away. No tears, just a warm tongue.
Protip: Use an Oxo Medium Cookie Scoop (size 40 / 1 1/2 tbs to make these cookies a breeze!)
Peanut Butter Sriracha Cookies
Sweet and spicy meet when Sriracha is added to Peanut Butter cookies. Must have additions include chocolate chips, or top with a Chocolate Hershey's Kiss like a Peanut Butter Blossom.
Recipe type:
cookies, baking
Ingredients
1 cup Unsalted Butter (softened)
1½ cups Crunchy Peanut Butter (or Sunbutter if allergic to peanuts)
1 cup Sugar
1 cup Brown Sugar (packed)
¼ c Sriracha
2 Eggs
1 tsp Vanilla extract
2¾ to 3 cups All-Purpose Flour (finished dough should be soft, but not sticky)
1 teaspoon Baking Powder
½ teaspoon Salt
1½ teaspoons baking soda
Granulated sugar for dipping dough balls into.
Optional: 1-2 cups Chocolate Chips to add to dough. OR Add a Hershey's Chocolate Kiss on top as done for Peanut Butter Blossoms. Doesn't change baking time.
Instructions
Cream together butter, peanut butter and sugars.
Slowly add in sriracha, eggs and vanilla. Beat until combined.
In another bowl mix together flour, baking powder, baking soda and salt.
Gently mix flour into peanut butter mixture until well combined. Place batter into refrigerator for 1 hour to chill.
Pre-heat oven to 375 degrees.
Roll dough into approx 1" sized balls or use a Medium sized cookie scoop/Size 40 - 1½tbs portion. Dip the top of dough ball into granulated sugar and place onto cookie sheet.
Flatten each ball with a fork, making a criss-cross pattern. Bake for 8-10 minutes or just until the cookies begin to brown. Do NOT over-bake!
Cool on wire racks and enjoy!