Daring Baker's Challenge: Key Lime Crostata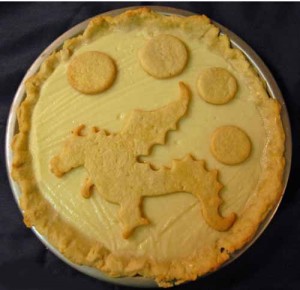 This month's challenge was hosted by Simona from briciole. For this challenge I chose to use key lime instead of using lemon since our key lime tree produced an insane amount of limes this year. (With the killer frosts of January/February 2010, where I thought tree died it actually came back to produce an insane amount of fruit!)
Here's our challenge intro courtesy of Simona.
Hello everybody / Ciao a tutti (the Italian way). I am and I have the honor of being your hostess for the November edition of the Daring Bakers' Challenge.
This month, I am inviting you to make crostata (tart), an Italian dessert. The base of a crostata is pasta frolla (or pastafrolla), sweet short crust pastry (or sweet tart dough) made of flour, sugar, butter and eggs. Pasta frolla is versatile: it provides the base to make crostata with fruit preserves, pastry cream, fresh fruit, ricotta, and other ingredients, and, by itself, it makes very nice cookies.

As a child in Italy, my favorite crostata variation was that with pastry cream. Nobody I knew made it, so when I wanted a slice; I got it from a bakery. My aunt Lucia made tarts with her homemade jam and baked them in oversize pans (which originally were metal film cans). My father and my cousins loved them, while I preferred the crostatine (cookie-size crostate, or tartlets) that she made with the leftover dough. I never asked my aunt for her recipe, so my version does not rely on her wisdom.

My intention with this challenge is to introduce you to pasta frolla and make you experiment with it in preparing a crostata of your choice.
I blind baked Version 1 of the Pasta Frolla and filled my crostata with a pastry creme (crema pasticcera). Here's Challenge info we were given and printable PDF.
Pasta Frolla courtesy of Simona from briciole.
Measured dry ingredients into food processor. Pulse to combine until it has the consistency of coarse crumbs.
flour
key lime zest
salt
butter
powdered sugar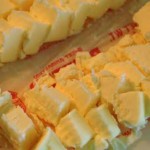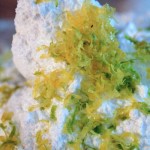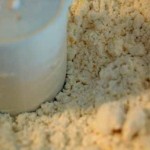 Empty the contents onto work surface and make a well in the center. In a separate bowl , mix together 1 large egg and 1 egg yolk and pour into the well. Use a fork to combine yolk into the flour, then use your hands and fingers to finishing combining and kneading.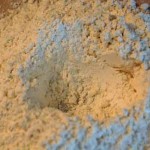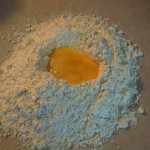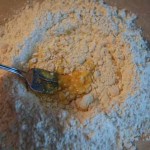 Shape into a flat disc and put in the refrigerator for at least 2 hours or overnight.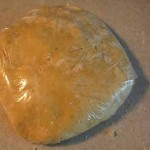 After dough has chilled preheat oven to 350 degrees and grab some ceramic pie weights to blind bake the crust. Roll the dough until it's about 1/8″ thick. Prick the crust with the tines of a fork. Then line pie crust with foil and evenly distribute the pie weights into one layer along bottom of crust. Bake crust for about 15 minutes until lightly browned. Set aside to cool. (Tip: Cut out some fun shapes with the leftover crusts and bake with the crust for some tasty cookies or decorations!)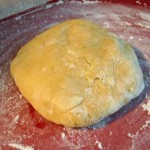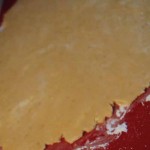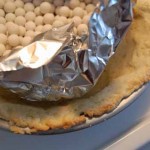 While the crust is cooling, time to make the pastry cream!
Warm milk and key lime zests gently over medium heat.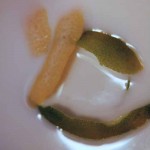 In another bowl mix together eggs and sugar until mixture is bubbly. Then sift flower over the egg mixture and beat briefly to incorporate.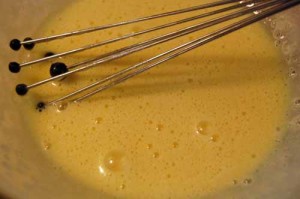 Next, temper the egg mixture with a small amount of the milk, then slowly add the rest while mixing. Pour the mixture into the pan and place on very low heat.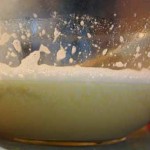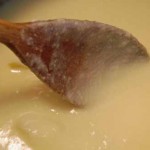 As the creama continues to cook it will start to slowly thicken. (Mine doesn't seem as smooth I think because of the key lime juice I added to the cooked milk, rather than after I combined the milk and eggs. I wanted my creme to have a subtle lime taste.)
It's time to remove from the heat when the mixture starts to gently boil. I pointed it out here in these red circles – just trust me!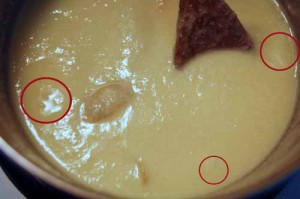 Remove the peels from the crema and pour into a cooled blind baked crust. Taking a note from cream pies, I covered it with a piece of plastic wrap and placed in the fridge to cool for a few hours.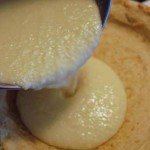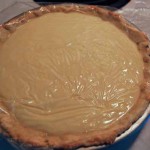 Just before serving, decorate if you like! Here's the cookies/decorations I made. I used a cool cookie cutter I got from my husband.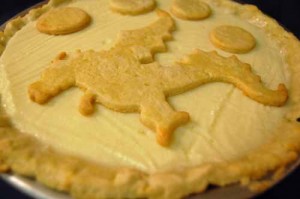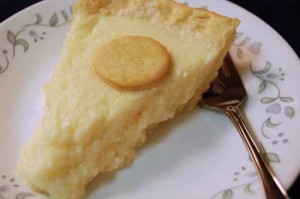 Thanks for a fun challenge! My family truly enjoyed this new dessert. Can't wait to make again in the future!
https://www.thesugarpixie.net/2010/11/27/daring-bakers-challenge-key-lime-crostata/
Recipes
daring bakers,key lime,pastry
This month's challenge was hosted by Simona from briciole. For this challenge I chose to use key lime instead of using lemon since our key lime tree produced an insane amount of limes this year. (With the killer frosts of January/February 2010, where I thought tree died it...
thesugarpixie
thesugarpixie@gmail.com
Administrator
The Sugar Pixie