PFB Challenge 2: For the love of Plantains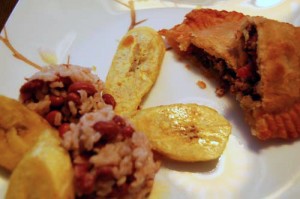 I went around and around trying to think of an ethnic classic. I really wanted to try French because I find the sauces intriguing and it's always something I'd rather someone else do for me. I'll be honest and say I was confused whether French/Italian was allowed so I just decided to go with another cuisine – Cuban/Latin – South American.
Since moving to Florida almost 10 years ago, we have been surrounded by Cuban friends and Cuban food. Oddly enough I rarely eat Cuban food (with the exception of Publix's oh so tasty Cuban sandwiches). This was one of the few cuisines I really had no passing interest because it seemed so ubiquitous? Where was good, better, best?
Welcome to Challenge 2 of Project Food Blog: #2 The Classics
Here were the requirements:
#2 The Classics
Challenge Prompt: Ready to tackle a classic dish from another culture? Pick an ethnic classic that is outside your comfort zone or are not as familiar with. You should include how you arrived at this decision in your post. Do your research then try to pull off successfully creating this challenge. Try to keep the dish as authentic as the real deal, and document your experience through a compelling post.
Voting Open: 6AM Pacific Time September 27th through 6PM Pacific Time September 30th.
200 Winners Announced: 12PM Pacific Time October 1st
My first and last Cuban adventure
I vividly remember going to lunch at one of my husband's favorite Cuban restaurants when I was about 14 weeks pregnant with our first child. We went with my in-laws who happened to be in town. I got some chicken and fried plantains. I was so excited to try new food! The food arrived and I dove mouth wide open into the plantains. Suddenly I realized I did not like them one bit. Taste, texture everything eeked me out! Dave happily devoured them for me and that was just over four years ago.
When considering an ethnic classic I immediately went back to this 'outside of my comfort zone' food. Not only would I attempt to tackle plantains I would take this opportunity to learn the ropes (ropa viejo?) of the Cuban/Puerto Rican/Latin American culture.
I thought about the foods our Puerto Rican friends would talk about and headed straight to my favorite search tools: Google and Dave. Google had way more information that I could ask for, so I asked Dave to help narrow down food he thought would be a hit with me and the kids drawing on his culinary experiences (read: restaurant visits and friends). I really wanted to try ropa viejo, but I just didn't have the time so here's what we came up with:
My Menu:
–Beef Empanadas (dough recipe)
-Red Beans and Rice
–Fried Plantains (yes, we meet again dear friend!)
I printed the recipes and made the empanada dough the night before so it was one less thing to do. Saturday morning after some play time at the park, we all went to the grocery store to pick up a few things I needed. I went to go grab the usually black plantains I see, only to discover they were GREEN! (Fortunately I saw this problem coming, since some recipes pointed to recipes for Fried Green Plantains/Tostones.) No problem, I'd get them anyways.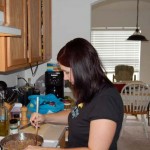 Saturday afternoon I started working on dinner when the kids went down for a nap. I channeled my hairdresser (super awesome lady of Puerto Rican heritage) and plugged in some tunes
and started prepping.
First up Empanada filling
Saute onion and yellow peppers
Add some garlic and cumin
Brown the ground beef
Then add some chopped whole tomatoes, chopped green olive and raisins
Let cool
Shape Empanada dough (About 12 portions)
Cut about 12 square pieces of wax paper a little larger than the size of your hand
Take a piece of dough a little larger than a golf ball; fits in the palm of your hand
Flatten doughball with the palm of your hand into a circle

Pick up the dough and moving clockwise pull/flatted the edges to make a larger circle
Use a rolling pin, but I found the shape got a bit distorted but I could roll it thinner.

Place sheets of waxpaper between each finished piece of dough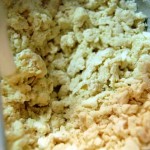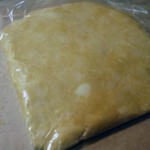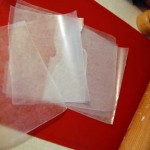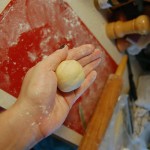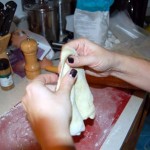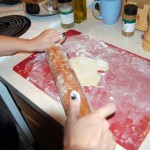 By the time I finished shaping the dough it was time to start the beans and rice.
Red Beans and Rice
Prepared the brown rice per the package's directions and waited for it to cook
Drain and rinse can of red beans (14oz can)
When the rice finished cooking I added 1 teaspoon of cumin, the beans, put the lid back on and turned the heat on low while I finished everything else.
While the rice was cooking I filled empanadas, heated vegetable for frying and prepped the plantains.
Empanada Assembly/Cooking
Fill a small bowl with a little bit of water
Grab an empanada round and place about 3 Tbs of beef filling – some took more, but don't overfill.
Dip 1-2 fingers in the water, moisten the edges of the dough to make a half moon shape. Fold the dough over the filling and onto the area you just moistened. It should look like a semi-circle.
Using a fork, crimp the outer edges to seal. Place on cookie sheet to bake or prep for frying. Repeat with remaining dough.

Fry: Heat a pan with 3/4" vegetable oil to 360 degrees Fahrenheit. Fry 2-3 at a time, turn once until crisp and golden brown. 2-3 minutes a side. Place on paper towels to drain excess oil
Bake: Heat oven to 425 degrees. Brush empanadas with simple egg wash (yolk/water/oil). Bake about 15 minutes until a light golden brown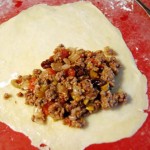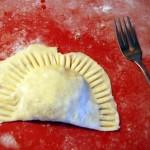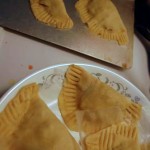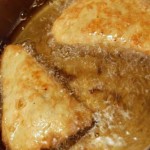 Cooking the plantains unfortunately didn't turn out as expected. The recipe I had said I should have been able to flatten, dip in a water/salt/garlic mixture and place in oil. The first plantain I tried to flatten promptly cracked and went a few different directions. Nothing flattened, just pieces!!! I just decided to abandon the idea of flattening since everyone (me) was starting to get hungry.
Fried Green Plantains
Place some papertowels on a plate/cooling rack
Mix together: 2 cups of warm water, 1 garlic clove-chopped and 1/2 tsp of salt
Remove ends of plantains
Slice down the length of the plantain
At an angle, cut the plantain into 1/4" thin slices
Dip plantain slices in water and place in heated oil
Fry each side about 3-4 minutes a side, without overcrowding the pan.
Use tongs to transfer plantains to drain on paper towels.
Repeat until completed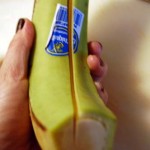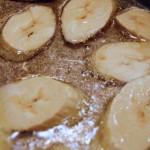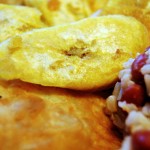 Conclusion
Still not a huge fan of plantains. Not confident in the techniques I used. To me, it just tastes like a very starchy/thick potato. This meal made for a fabulous lunch the following day where I indeed, ate some more plantains = progress!!!
The kids LOVED it all! Our oldest was even making up songs about empanadas. I definitely think we'll be making these again, and heading to a local Cuban restaurant as a family soon!
"Simply Being Loved, is more than enough" –BT, which perfectly describes this moment with our family.
Thanks for joining us, and hope you'll consider voting!
https://www.thesugarpixie.net/2010/09/26/pfb-challenge-2-for-the-love-of-plantains/
https://www.thesugarpixie.net/wp-content/uploads/2010/09/empanada_plantain_27.jpg
https://www.thesugarpixie.net/wp-content/uploads/2010/09/empanada_plantain_27-300x300.jpg
Contest
Recipes
Stories
beans,beef,ethnic,fry,kids,plantain,project food blog,rice
I went around and around trying to think of an ethnic classic. I really wanted to try French because I find the sauces intriguing and it's always something I'd rather someone else do for me. I'll be honest and say I was confused whether French/Italian was allowed so I...
thesugarpixie
thesugarpixie@gmail.com
Administrator
The Sugar Pixie