Leopard Print Cake : Surprise Inside
My oldest daughter's birthday was coming up and I grabbed a few books from the library looking for ideas and recipes. My daughter was immediately stuck on the surprise heart cake from Amanda Rettke's (IamBaker.net) book "Surprise-Inside Cakes." I'm generally up for a challenge, but I really did not have time to make a practice cake (need more time please! Ah!) . We finally settled on the Leopard Cake, because well it matched the plates we bought. (? really ? )
Okay, so cake picked. I go to grab my cake pans. How do I not have straight walled round metal cake pans? Bundt pan it is, because one pan and done, and I have to redeem myself from my last bundt cake that didn't come out of the pan. I realized it may not come out exactly like the book, but I forged ahead.
I slightly adapted the Lemon bundt Cake recipe from the Cook's Illustrated, "Baking Book" in making this cake. The technique for making the inside spots came from Amanda's book, and the chocolate spots were all my creation! The spots come from using three different batters – the later two tinted with gel colors: plain batter, light brown batter, and dark brown. First you pipe a circle of dark batter, then cover with plain batter. Next, a circle of light brown, with dark brown on top. Fill in the gaps with batter. Any extra batter, just make some circles or spots with dark overlapping the light.
I tried to find a picture of Amanda's cake, but can't seem to find anywhere – so you'll have to check the book out (or look at these other surprise inside cakes to get an idea.) Mine did not turn out exactly like spots since the bundt pan isn't flat. There's a few more bundt recipes on Amanda's site worth giving a try too.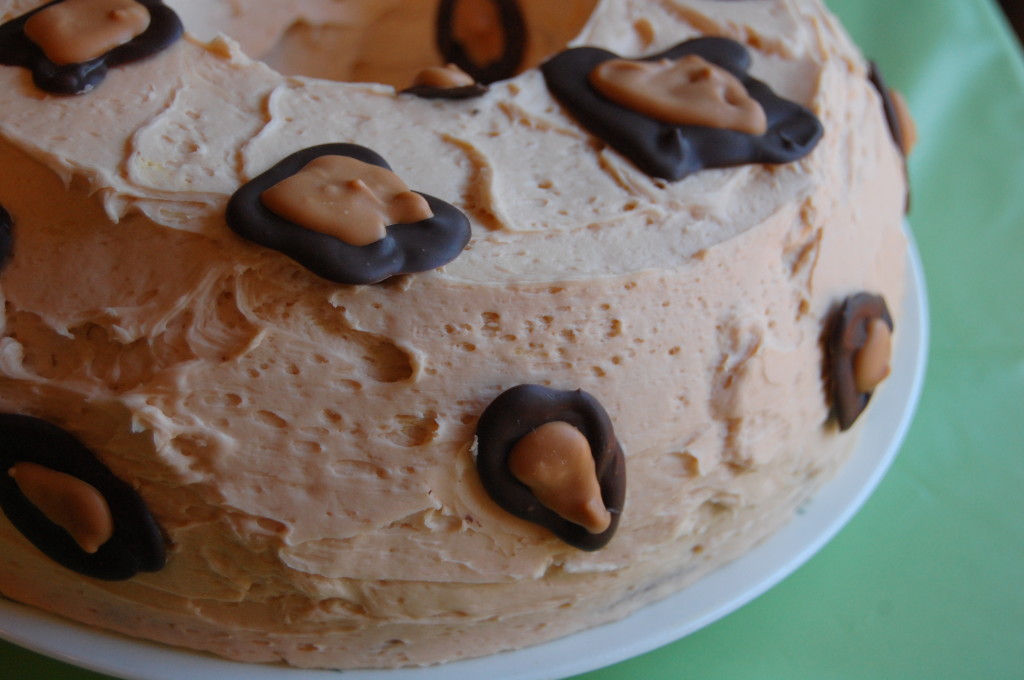 A peek inside.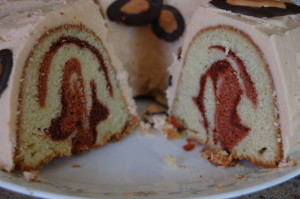 It's kinda leopardish right? This cake batter had a serious amount of rise to it, and the crazy pattern was well received. Next time, I think we'll just try a regular cake pan! Rorschach's favorite birthday cake?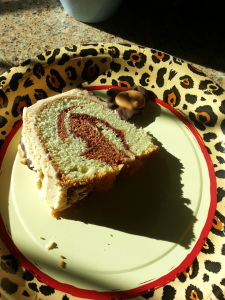 Vanilla Bundt Cake with Vanilla Buttercream
Firm, vanilla bundt cake topped with a fluffy vanilla butter cream.
Author:
adapted slightly from America's Test Kitchen and Cook's Illustrated
Ingredients
Vanilla Bundt Cake
3 cups all purpose flour (15 ounces)
1 teaspoon baking powder
½ teaspoon baking soda
1 teaspoon salt
¾ cup buttermilk
2 tablespoons vanilla extract
3 large eggs, plus 1 yolk (room temperature)
18 tablespoons unsalted butter (2¼ sticks), softened but still cool
2 cups (14 ounces) granulated sugar
Vanilla Buttercream (3 cups, enough for 1 layer of cake, double for 2 layer)
2 teaspoons vanilla extract
2 tablespoons heavy cream
⅛ tablespoons table salt
2½ cups confectioners' sugar (10 ounces)
20 tablespoons (2½ sticks) unsalted butter, softened
Instructions
Vanilla Bundt Cake
Adjust oven rack to lower middle, and pre-heat oven to 350 degrees.
Whisk dry ingredients in a large bowl: flour, baking powder, baking soda, and salt.
Combine buttermilk and vanilla extract in a bowl
Whisk eggs and yolk together in a small bowl.
Using the paddle attachment in a stand mixer, beat butter and sugar on medium-high speed until pale and fluffy, about three minutes.
Reduce speed to medium and slowly add about half the eggs. Mix for about 15 seconds, and add the remaining eggs. Reduce speed and scrape down the sides of the bowl.
With the speed on low, add flour mixture in 3 additions, alternating with buttermilk mixture in 2 additions. Scrape bowl as needed. Give batter a final stir by hand.
Prepare bundt pan with floured baking spray
Scrape batter in pan. Bake until top is golden brown about 45-50 minutes, and rotate once halfway through. A skewer should come out clean when inserted in center (no crumbs attached.)
Let cake and pan cool on a wire rack for 10 minutes. Finish by inverting cake onto wire rack.
Decorate as desired or serve with fruit.

Vanilla Buttercream (3 cups, enough for 1 layer of cake, double for 2 layer)
Using whisk attachment in a stand mixer, beat butter on medium high until smooth (20 seconds).
Add sugar and salt, and slowly increase speed to medium-low. After 45 seconds most of the sugar should be moistened.
Scrape the sides of the bowl down, and mix again for 15 seconds.
Scrape the sides of the bowl down, and add vanilla and heavy cream. Beat at medium speed until incorporated, about 10 seconds. Increase speed to medium-high and beat until light and fluffy (about 4 minutes). Scrape the bowl down once or twice.
https://www.thesugarpixie.net/2014/12/10/leopard-print-cake-surprise-inside/
Leopard Print Cake : Surprise Inside
https://www.thesugarpixie.net/wp-content/uploads/2014/12/DSC_6756.jpg
https://www.thesugarpixie.net/wp-content/uploads/2014/12/DSC_6756-300x300.jpg
Recipes
cake,frosting,Icing,kids,vanilla
My oldest daughter's birthday was coming up and I grabbed a few books from the library looking for ideas and recipes. My daughter was immediately stuck on the surprise heart cake from Amanda Rettke's (IamBaker.net) book 'Surprise-Inside Cakes.' I'm generally up for a challenge, but I really did not...
thesugarpixie
thesugarpixie@gmail.com
Administrator
The Sugar Pixie