Homemade Yeast Doughnuts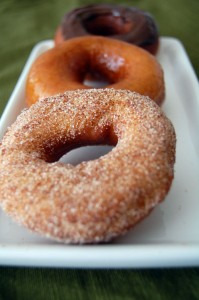 Ever since the mom and pop doughnut shop in town closed  the first part of the year, I made it my mission to learn how to make my own doughnut. I planned a few days ahead of time to make these because it would be at least a two day process. I am so happy with how these turned out and finally, yeast and I have made a tasty final product!
Donut vs. Doughnut
My book calls it a doughnut, but so many places I see donut. I think the proliferation of the Dunkin Donut franchises and fond childhood memories of Mr. Donut have added to this tasty confusion.
This recipe comes from the 'Joy of Cooking: All About Breakfast and Brunch
' which in addition to this there are so many other tasty recipes. I thought the recipe was pretty easy, even though I still managed to almost screw the recipe up not even five minutes in! (I don't use packets of yeast and forgot the second measurement of yeast.) Quickly recovered from the mixup by adding the rest of the yeast in and just resetting the five minute timer. I figured I would see if everything was okay by how my 'sponge' was rising later.
Honey Dipped Doughnuts Step by Step
Creating the Sponge
Begin by proofing the yeast in a small dish. Combine and let sit for about 5 minutes.
1 cup warm water (105 to 115 degrees Farenheit)
2 envelopes (2 1/4 teaspoons each) Active Dry Yeast
After proofing the yeast, add 1 cup of flour and cover bowl tightly with plastic wrap. Let rise for 30-60 minutes. Before, After.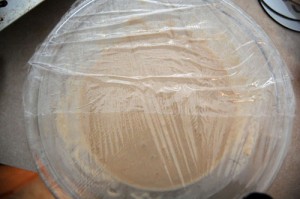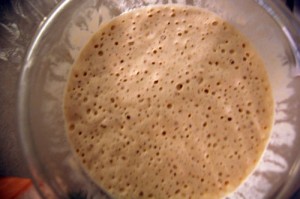 Starting the dough
In the bowl of a stand mixer beat until light and fluffy:
1 1/4 sticks of butter (10 Tbs)
2/3 c White Sugar
Gradually add:
3 large eggs, let each egg mix in thoroughly before adding the next
2 teaspoons of vanilla
1 teaspoon salt
Optional: Zest of half a lemon, or quarter of an orange.
When the sponge mixture is done rising, attach the dough hook to your stand mixer (or use a heavy wooden spoon) and to the above add:
Sponge mixture (after it has risen 30-60 minutes)
3 1/2 cups of flour
The dough is ready when it pulls away from the sides and around the hook (after a few minutes). Butter a large bowl and cover all sides of the dough with butter. Cover tightly with plastic wrap and place in a warm area to double in size 1 1/2 to 2 hours. (Below: Double size dough ready for the fridge!)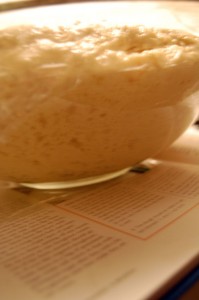 Punch the dough down, wrap in plastic and place inside a large resealable bag. All the extra plastic keeps the dough from forming a tough skin overnight.
Doughnut Day!
The dough expanded just a bit over night, here's what it looks like in the morning.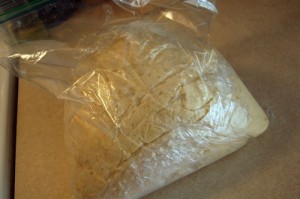 On a lightly floured surface, take half the dough and roll to 1/2″.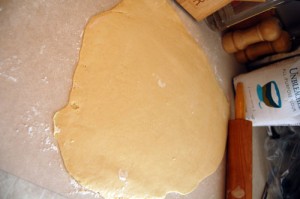 Using a floured doughnut cutter, cut the donuts out and place on some wax paper.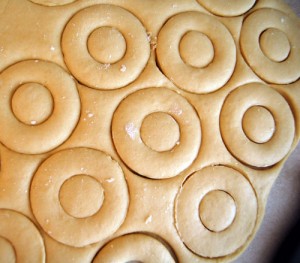 Let the doughnuts rise a final time for about 30 minutes until they're soft and puffy to the touch. Prepare some paper towels and begin heating the oil.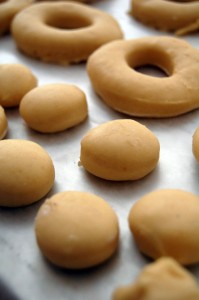 Heat oil to 365 degrees Fahrenheit. Drop 2-3 doughnuts and their centers into the oil. Fry until one side is a light golden brown, then quickly flip to the other side for cooking. Remove and place on paper towels.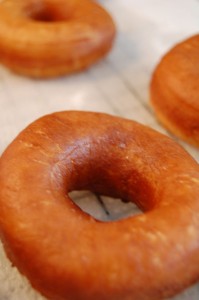 Enjoy plain, honey dipped, chocolate covered, cinnamon sugar……what is your favorite?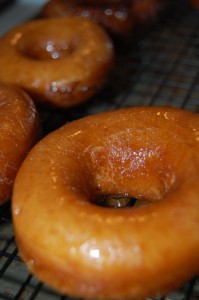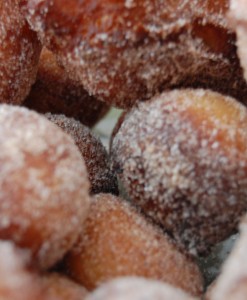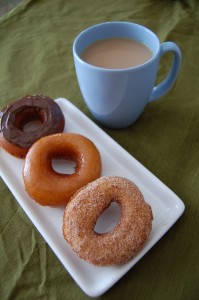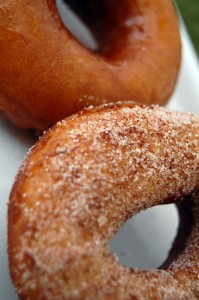 Yield: About 24 doughnuts + several doughnut holes

Homemade Yeast Doughnuts
Classic Yeast Doughnut recipe
Ingredients
1 cup – Warm water (105 to 115 degrees F)
2 envelopes – Active dry yeast (2¼ teaspoons each)
1 cup – All purpose flour
10 tablespoons Unsalted Butter (1¼ sticks)
⅔ cup – Sugar
3 – Eggs (large)
2 teaspoons – Vanilla Extract
1 teaspoon – Salt
3¼ cups – All purpose flour
Instructions
Day One - Make the dough
Sponge
Stir together in a medium bowl: warm water and yeast.
Let stand until the yeast is dissolved – approximately 5 minutes.
Add 1 cup flour to yeast mixture and stir until smooth.
Cover the bowl tightly with plastic wrap and let rise in a warm place until bubbly, about 30-60 minutes.
Pre-Dough
While waiting for the sponge to rise, in another bowl beat 10 tablespoons of unsalted butter and ⅔ cup of sugar until light and fluffy.
Slowly add 3 eggs, 1 at a time – thoroughly mixing each in before adding the next.
Gradually add 2 teaspoons of vanilla extract and 1 teaspoon of salt. (*Optional: lemon/orange zest.)
Bringing the dough together
Attach the dough hook to mixer.
Add the sponge mixture to pre-dough, plus 3½ cups all-purpose flour.
Mix until flour is fully incorporated and the dough is soft and golden. The dough will QUICKLY wrap around the dough hook and pulls away from the sides. (If you don't have a stand mixer the batter can beat mixed by hand with a wooden spoon.) If by chance you miss where the dough pulls away from the sides and hook, it's safe to say it happened after a few minutes and just proceed to next step.
Butter a large bowl, add the dough and turn the dough so all sides are covered with butter.
Cover bowl with plastic wrap, let rise in a warm place between 1½ – 2 hours until it has doubled in volume.
After the dough is finished rising, punch the dough down, wrap in plastic and put in a plastic bag overnight or for at least 3 hours. (The plastic around the dough is to keep it from getting exposed to the air and forming a skin.)
Day Two - Make the Doughnuts
Form
Place about half the dough on a lightly floured surface.
Roll dough to about ½″ thick.
Using a well-floured doughnut cutter, cut the doughnuts and their holes out. Place doughnuts on wax paper.
Repeat with remaining dough.
Let rise uncovered for 30 minutes until soft and puffy to the touch. A slight skin will form, which will keep the doughnuts from absorbing too much oil.
Fry
Heat oil to a temperature of 365 degrees and lay paper towels on a cooling rack or cookie sheet.
Drop 2-3 doughnuts and holes into oil until golden brown on both sides (flip when one side is done). This may happen VERY quickly!
Remove and drain the doughnuts on the paper towels.
Toppings
Honey Dip – Boil some honey in a pot. Quickly lay each side of the doughnut in the honey. Place on a cooling rack.
Cinnamon Sugar – Mix white sugar and just a bit of cinnamon. Toss doughnuts and their centers while warm. (My favorite!)
Chocolate – How about spreading some chocolate spread on top of a warm doughnut?