Dry Ice Fun and Making Berry Frozen Yogurt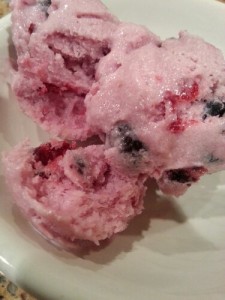 The girls and I got a package the other day and besides the food inside there was…DRY ICE!!! Yes! Okay, so there was good food inside, but there was DRY ICE (solid carbon dioxide)! The girls have never seen dry ice before, so I quickly posted to Twitter asking for some ideas on what I could do with it. I got one response, but I didn't I have a banana – so my thoughts turned to ICE CREAM (brain saying you mean Frozen Yogurt!)
Science is fun!
Before we started I explained and reminded the girls how cold dry ice is and only I'd touch it, but we'd do cool things with it – but don't touch with your fingers! I grabbed the block of dry ice (had heavy winter gloves on) and put it in a large brown paper bag and broke it up into a few smaller pieces. I put a golf ball sized chunk into the laundry tub and turned a bit of water on it. The girls 'Ooohed and Aaaahed' as little puffs of 'smoke' swirled around. The 'smoke' was really just the dry ice changing from a solid to a gas via sublimation. I think there were a few 'You're the best mom EVER! SO COOL!' I relocated the dry ice to a taller plastic container and put a bit of water in it. The girls swirled the dry ice and water around and watched more clouds form.
Science is tasty!
In the mean time, I gathered some random ingredients to make ice cream/frozen yogurt. I thought for sure I had sweetened condensed milk because I've been dieing to try a Strawberry Cheesecake Ice Cream Recipe from SomethingSwanky.com, but I didn't. I used some sweetened cream cheese, Nilla wafers, powdered sugar, frozen berry mixture and homemade yogurt to make our froyo/ice cream. I used a few tips from a Wired GeekDad article I found on dry ice – ice cream and experiments. I positioned my glass dish next to the block of dry ice, but I ended up with froyo that was a little bit mushy in the middle and frozen solid around the edges after about three hours in a closed cooler. The kids loved that they could help make ice cream and eat it too!
Here we go!
Berry Dry Ice Froyo
Mix your ingredients (give or take – experimenting is tasty!)
1 cup yogurt
1/2 cup sweetened cream cheese
1 tbs powdered sugar
4 Nilla wafers – crumbled
1 cup frozen berry mix
Nestle it next to a block of dry ice in a cooler. OR Put it into a giant zip top bag and lay on top of dry ice in a cooler.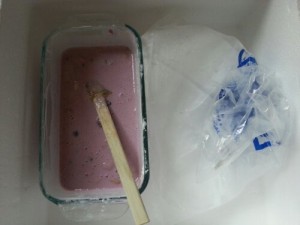 Let chill for 2-3 hours. It might work better if you stir once or twice otherwise the outer parts freeze pretty solid.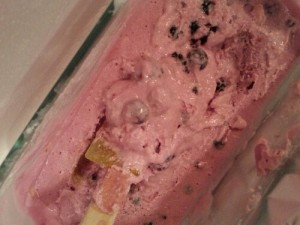 Mix it all together and enjoy!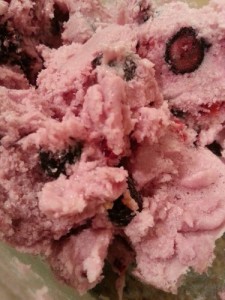 https://www.thesugarpixie.net/2013/03/04/dry-ice-fun-and-making-berry-frozen-yogurt/
Family
Recipes
berry,desserts,dry ice,frozen,fun,learning,Recipes,science,yogurt
The girls and I got a package the other day and besides the food inside there was...DRY ICE!!! Yes! Okay, so there was good food inside, but there was DRY ICE (solid carbon dioxide)! The girls have never seen dry ice before, so I quickly posted to Twitter asking...
thesugarpixie
thesugarpixie@gmail.com
Administrator
The Sugar Pixie