How to Grill Pineapple and Grilled Pineapple Smoothie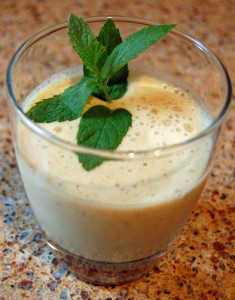 It's almost summer and that means grilling! We are trying different recipes on the grill rather than using the oven and the stove this season. We turned to an old favorite – grilled pineapple for dinner one evening and we ended up with leftovers. I got to thinking how a grilled fruit smoothie would be? (Always looking to try something new!)
This was more of an experiment in throwing a few things together to see how they tasted. In the end, it's a fruit smoothie with grilled fruit instead of fresh fruit. My 5 Speed KitchenAid blender (buy*) is super heavy duty, and it had no problem liquefying the pineapple core and even a carrot I had (natural sweetness).
Substitute any grilled fruit into your smoothie recipe, next time I want to freeze the grilled pineapple so it's more like a Dole Whip from Disney – YUM! Play with the yogurt and milk ratio if you like, it's all about experimenting, really you can not screw up a smoothie! Verdict: The smoothie had a hint of smokey flavor we all liked. The kids and us can't wait to try again sometime with other types of fruit.
How to Grill Pineapple
Lightly spray each side of the pineapple slice with cooking spray
Cook over INDIRECT heat for 6-8 minutes a side on a grill or grill pan.
Grilled Pineapple Smoothie
Use grilled or canned pineapple to make a unique fruit smoothie.
Ingredients
Half of a Pineapple - cleaned and grilled (if you like) approximately 4 slices.
Half a carrot to whole carrot (cleaned and peeled)
¼ cup of Plain Yogurt
1 cup of Milk
1 Tsp - 1 tbs of honey
Few leaves of mint
Pinch of salt
Optional: Ice to make it colder
Instructions
Put all the ingredients into a blender, puree and enjoy!
https://www.thesugarpixie.net/2013/06/16/how-to-grill-pineapple-and-grilled-pineapple-smoothie/
https://www.thesugarpixie.net/wp-content/uploads/2013/06/pineapplesmoothie.jpg
https://www.thesugarpixie.net/wp-content/uploads/2013/06/pineapplesmoothie-300x300.jpg
How-To / DIY
Recipes
grilling,honey,milk,mint,pineapple,yogurt
It's almost summer and that means grilling! We are trying different recipes on the grill rather than using the oven and the stove this season. We turned to an old favorite - grilled pineapple for dinner one evening and we ended up with leftovers. I got to thinking how...
thesugarpixie
thesugarpixie@gmail.com
Administrator
The Sugar Pixie