Burgatory: Waterworks in Pittsburgh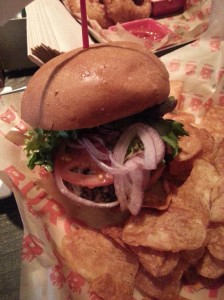 After a busy afternoon of shopping in the Strip District, Dave declared he was hungry for American food (even with all the delicious smelling ethnic food carts). We threw back and forth some ideas and settled on Burgatory in the Waterworks. The food not only met, but greatly exceeded my wildest expectations.
We arrived at The Waterworks Burgatory Bar around 530pm on a Saturday night and it was super busy! We forget that restaurants get busy at dinner time, since whenever we do go out it's for breakfast or lunch. No problem, we gave them our name and number for the No Wait system and they would text us when our table was ready. In the mean time we were able to spend some time shopping before dinner, we had about 45 minutes to kill!
Just as we were finishing at Old Navy, I got a text our table was ready. It said we had ten minutes to get back, but with spotty cell service I realized the message came about three minutes earlier. Eeek! Burgatory has a great vibe – with some funny flowcharts on the wall asking who you are dining with and how to proceed.
Burgatory has a great menu of burger and non-burger items, but really you are going there FOR the burgers. You have the option to build your own or order one of their creations. Besides the burgers they have milkshakes, like…out of this world milkshakes that they call Heavenly Milkshakes and I wanted all of them! Dave had been to Burgatory before in Robinson and suggested…more like insisted we try the Coffee and Donuts Milkshake. There was plenty of milkshake for the two of us to split, this picture is just half of it. I offered to split the donut on top, but Dave let me have it to myself. That's love there! The whipped cream is honest to goodness real, thick, do not ask how many calories whipped cream. We left a lot of whipped cream in the glass even after adding the rest of shake from the metal milkshake cup, it just rose to the top! I noticed some people ordered milkshakes for dessert, but why, this was really good with the rest of our meal and by dessert time – we were stuffed.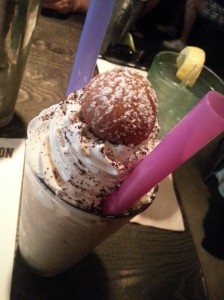 Moving on, we spied some onion rings on the way in and started with those as an appetizer. They are big, like six softball size slices. They come served with two sauces: spicy ketchup and chipotle horseradish dip. We ate four and took two home for leftovers.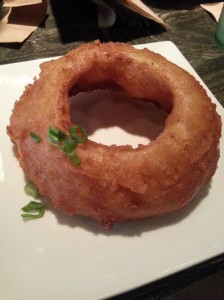 And now, the burger. It was a tough choice between the Morty's Steakhouse and the Standard Deluxe (menu). Burgatory features All Natural, Hormone Free beef that's ground fresh daily. The idea of the Steakhouse burger sounded appealing, but in reality it seemed like it could be messy with a Cabernet Sauce and Haystack Onions. I decided to be the master of my burger domain and created my own burger (very similar to the Morty's Steakhouse). I wanted to taste the burger, get lost in what I was hoping was full of deliciousness.  I wanted burger nirvana!!! My first and only time at The Counter in California left me wanting, and Burgatory better top what I had at BRGR (total meh experience). PS: I really love hamburgers, awesome ones.
My burger was a Custom Creation (options):
Hormone Free Beef
Brioche (Soft buttery bun)
Peppercorn (Dave had Bayou Cajun, and I would pick this next time)
Roasted Garlic Mayo
Organic Field Greens
Sliced Red Onion (Super thin and perfect amount of onion)
Tomato
Cooked Medium
The burger was awesome, a bit peppery because of the Peppercorn but it still tasted like a really great steak on a burger. The burger was even better the next day with the fresh cut chips that came with our burgers. (We cut the burgers in half and had leftover chips and onion rings with it the next day.) Every piece of the burger was spot on by itself, and together it was one of the best gourmet burgers I have ever had Since we had some of our meal to go, our server brought out boxes and gave each our burgers a name so we knew which box was ours. (We packed both burgers and rings in a box, and the chips in the other.) Loved all the touches.
I think Dave is already suggesting we go back for my birthday this weekend. (I am cool with that!) I really dig Burgatory, and if you're looking for an awesome gourmet burger get thyself to Burgatory now! Five Guys doesn't cut it for me anymore. If I am going out for burgers, I am going here!
Pro-tip: Reheating burgers
If your burger is all assembled, spray a skillet lightly with non-stick cooking spray. Remove the veggies if you can from the burger and set aside. Get skillet to medium or medium-low heat, put burger in and cover with a lid. You may need to wait some time 10-15 minutes for everything to warm up. Sometimes I put the burger in the microwave for 2 minutes and then warm in the skillet. I warmed the onion rings  up in the skillet too. Two meals for the price of one? That's pretty awesome.
So…when are we going back??