Creating A User Friendly Laundry Room
An upside to getting older is the need to have everything organized, matchy-matchy and be user friendly. I liken it to a mild form of nesting – while pregnant I organized our DVDs, CDs to an insane degree! I am not claiming to be an interior decorator, but oh boy do I love a good process/good work environment-layout. I guess all those years in web design and ISO auditing come in handy as a stay at home mom/domestic engineer!
Where we last left off – Laundry Room Makeover
Problem #1 – Cabinet Pulls Too High
I can only imagine these cabinets used to be in the kitchen, and while they may have worked there, they definitely don't work here. I can't reach these pulls without standing on my tip-toes. I am more accustomed to either pulling the corners, or reach for a corner pull/knob (like the rest of our cabinets and the world.)
Installing Hardware:
I bought a cabinet mounting template to make sure everything was lined up right. I just picked a hole, marked it on the cabinet and made sure the marks were the same on each cabinet. If you need a video, Home Depot has a quick one on how to use the template.
The drawer pulls happen to match the vanity we bought at Home Depot last year for our powder room re-do. Buying a  10 pack meant I had a few extra knobs to use on the linen closet upstairs, that were mismatched, and it was cheaper too!
Tip: Always keep the screws from the old hardware if possible, because sometimes the new screws may not be big or small enough. (I had some strange screw problems when I replaced our kitchen hardware)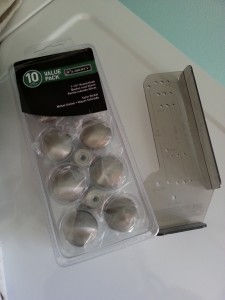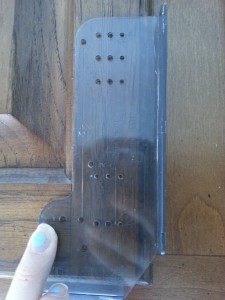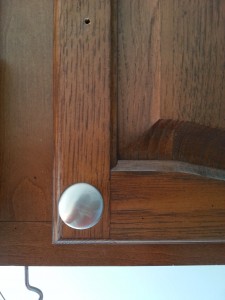 Problem #2: Clothes Hanger / Clothing Rod

I removed a lot of hardware from the walls and pulled some scary nails from the door, so I lost a lot of MacGyver style organization. (Anyone up for hanging a jacket on a random hook or nail?)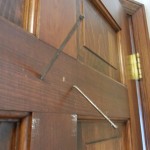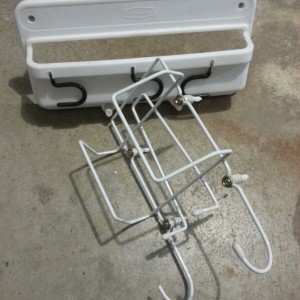 I *love* using House of Hepworth's "Cheap Awesome Professional Curtain Rod" for my random clothes hanging issues in the house. I used this same method in our bedroom closet for my husband to hang his dress pants. I mounted the rod on the underside of cabinets in the laundry room with some old curtain brackets I had. Do a test run with some clothes on a hanger to make sure it has enough clearance with the wall and head space (don't want to walk into the rod or anything!)
Next, I went digging in the specialty nuts/bolts etc. section of Lowes to find some screws I wanted. I found threaded aluminum post screws that would allow everything to lay flush. I wanted to finish the cut ends and found some Black Nylon Plugs to go inside the cut ends of the conduit. (Rubber chair tips seemed to fit too!) Pick the hardware to fit your situation, get creative think outside the box!
Items for Clothes Rod:
Here's a semi-clearpicture of what all the items look like, however, I had to try a few sizes for the Threaded Posts to fit tight and flush in the cabinets.
Here it is finished. I can easily hang sweaters or other items.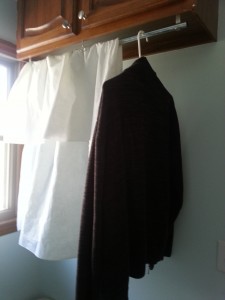 Total Spent: $30 (for hooks, electrical conduit, hardware items)
Moneysaving Tip: Make this project almost free by taking surveys on line for cash! My favorites are American Consumer Opinion (check or PayPal) and Opinion Outpost. (PayPal, Amazon Gift Card + more options. Use PayPal to pay for items at Home Depot, and Amazon to order other items online!)
This is how I get my 'mad money' for lots of my DIY projects. I made enough in a few months time to replace all our kitchen hardware pulls (four packages worth) from Home Depot for FREE! Easy peasy!