Spicy Asian Noodles made with SunButter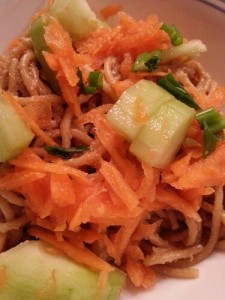 Hungry for asian food, so what do you do? Scour the pantry and buy a cucumber! This is a summer favorite of ours but it is perfect warm or cold, hence why I am blogging about this in 60+ degree weather in JANUARY (Pittsburgh winter, huh?)
Dave made this for dinner tonight and the recipe is easily adapted to use peanut butter or SunButter. SunButter is ground sunflower seeds. I was a bit skeptical at first, but now I can't imagine our life without it. The best part is there's no peanuts or tree nuts to worry about, and it's not even made in a peanut/tree nut facility. Worried about gluten? It's gluten free! There's a wide variety of textures and SunButter options as well with Omega 3, no stir, creamy and crunch. If you have never tried SunButter, try it – we don't miss Peanut Butter at all around here!
Spicy Asian Noodles made with SunButter
Adapted from Food And Wine's Spicy Peanut Noodles
1 pound spaghetti (1 box)
3/4 cup smooth peanut butter or SunButter
1/2 cup unseasoned rice vinegar (to be portioned between vegetables and noodles)
3 tablespoons plus 1 teaspoon sugar
6 tablespoons soy sauce
1/4 cup water
*Optional: 2 teaspoons crushed red pepper

2 teaspoons powdered ginger
2 teaspoons garlic powder
1 large carrot, coarsely shredded
1 cucumber, peeled and diced
1 green onion/scallion chopped
Directions
Cook spaghetti per box instructions in lightly salted water. Drain. (If cooler noodles are preferred, rinse under cold water and drain well.)
In a small bowl, whisk together SunButter, 6 tablespoons rice vinegar, 3 tablespoons sugar, soy sauce, water, powdered ginger and powdered garlic. *Optional: Add 2 teaspoons of crushed red pepper. (Crushed red pepper can be added to individual servings instead.)
Add Sunbutter mixture to the noodles and toss to coat.
In another bowl, toss the cucumber and carrot with remaining 2 tablespoons of vinegar and 1 teaspoon of sugar.
Transfer noodles to a serving bowl and top with vegetable mixture.
Sprinkle with green onions and enjoy!
This would make a perfect leftovers for a bento sized lunch!
https://www.thesugarpixie.net/2013/01/13/spicy-asian-noodles-made-with-sunbutter/
Recipes
asian,bento,dave,nut free,spicy,sunbutter
Hungry for asian food, so what do you do? Scour the pantry and buy a cucumber! This is a summer favorite of ours but it is perfect warm or cold, hence why I am blogging about this in 60+ degree weather in JANUARY (Pittsburgh winter, huh?) Dave made this for...
thesugarpixie
thesugarpixie@gmail.com
Administrator
The Sugar Pixie