Greek Salad: Thinking Outside the Bowl
The summer growing season is nearing its end in our garden. I keep trying to stretch the fresh greens and tomatoes, but I think it's "that time." Time to clear the beds, and clear the last of the tomatoes from the plants – BUT until then I will savor every last bit of fresh vegetables we having coming in. (Okay, so that's probably next week because our second growth of salad greens are going to seed and being eaten.)
Greek Goodness
I absolutely adore greek salads. In college, about once a month or Dave and our friends would go to The Mediterranean Grill in Squirrel Hill for lunch or dinner and get loads of delicious greek food. Boring me got the same menu items (gyro or a mushroom type gyro) nearly every time we went, since I was a food newbie. What sticks out in my mind about every trip there was the grated feta option for $0.75 on a greek salad. My working through and paying for college mind immediately rounded that up to a $1 on an already $4ish small salad. Seriously, it was about 25% of the cost for the salad!
But let me tell you, that feta, was so delicious. I savored each and every bite of that salad, whenever I decided to splurge and get the cheese. I thought cheese came in two forms: Velveeta and American Cheese slices. Oh, and don't even get me started when a greek food truck appeared outside Carnegie Mellon that served little CUBES of feta with super briny green olives. (I guess this is why I like my martinis dirty!)
Mountains of Feta
Fast forward to now, where we have this perfect storm of leftover salad greens, tomatoes, and THE largest container (24oz) of feta cheese I have ever owned (thanks to Dave's trip to Costco with the men-folk in his family.) Typically we get a small block of feta, or the little tubs of crumbled stuff and we treat it like gold and plan all sorts of special meals (salads) around it. I'm really trying to eat this feta, really…it's okay if everyone else wants to help, but…really it's cool – I got this! The kids are starting to come around on the flavor (ah! I have to share??!)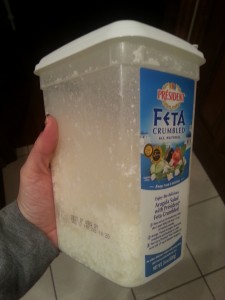 Penzey's makes this fabulous Greek Seasoning that you can use to season meat, or use to make Greek Salad Dressing and a little goes a long way! It's really tangy, and a bit salty but it tastes so refreshing with the tomato and cucumber. Add some red wine vinegar, olive oil and water and you got dressing! Lately I've been subbing green olive juice in for the water the dressing calls for. (It's all water right, and you get this amazing taste of green olive without really having the olives in the salad.) Dave just started eyeballing the amounts for tomato and cucumber salad, and so I have been doing the same for lunch with the following results.
It started off as:
Day 1: Cucumber and tomato with a bit of chopped salad greens.
Day 2: Add in some white beans we had leftover.
Day 3: Mix with leftover rice pilaf
Each time I'd just eyeball a teaspoon or two of the greek seasoning with some red wine vinegar, olive oil and green olive juice. Ah, can't forget – feta, for days! (Burghbaby has a really good homemade Greek Dressing recipe too.)
Point is, it's fun to try new flavors. Keep it somewhat familiar, but switch out lettuce for beans, or lettuce for black or green olives. Stretch out every last leftover, and pick up some new flavors along the way!
https://www.thesugarpixie.net/2014/10/11/greek-salad-thinking-outside-the-bowl/
Greek Salad: Thinking Outside the Bowl
https://www.thesugarpixie.net/wp-content/uploads/2014/10/wpid-20141008_122059-1-811x1024.jpg
https://www.thesugarpixie.net/wp-content/uploads/2014/10/wpid-20141008_122059-1-300x300.jpg
Recipes
beans,cucumber,lettuce,salad,tomatoes
The summer growing season is nearing its end in our garden. I keep trying to stretch the fresh greens and tomatoes, but I think it's 'that time.' Time to clear the beds, and clear the last of the tomatoes from the plants - BUT until then I will savor...
thesugarpixie
thesugarpixie@gmail.com
Administrator
The Sugar Pixie