Review: Willow Restaurant in Pittsburgh, PA
Finally had the opportunity to check out Willow restaurant just on the outskirts of downtown Pittsburgh. A group of friends and I had a great time trying all the different foods available. Earlier in the day Dave and I took a look over the menu trying to figure out what would be good to try. I had the Chicken and Brie sandwich in mind, even though it would be my second dinner of the day. (I'm down with eating like a Hobbit because I'd be celebrating a family member's 87th birthday before heading out for the evening!)
After making our way through the freezing drizzle and the back roads of suburbia, we all sat down for the beginning of a great meal. We were seated upstairs in a dimly lit room around several other parties celebrating birthdays. We started things off with drinks of course! My friend Maria suggested the Old Cuban. It was a delicious and beautiful combination of rum, champagne, mint, sugar, and bitters. The Moscow Mule was a very tempting option as well, maybe next time?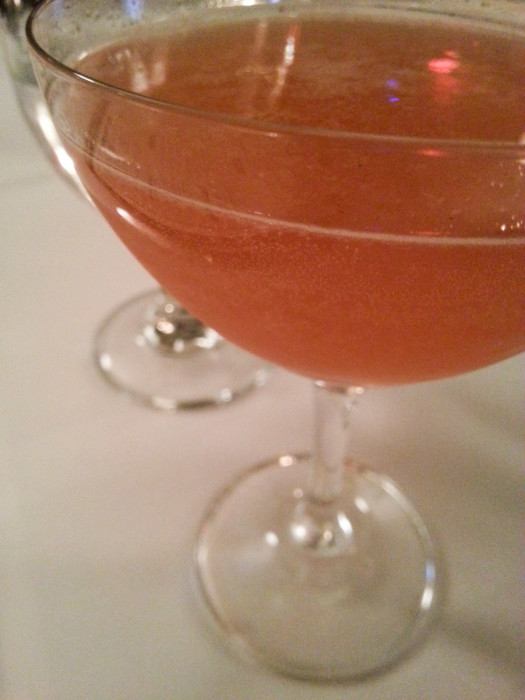 Next up was soup and salads. I debated whether or not to get the Beer Cheese soup, and I'm a total sucker for anything beer, cheese, or bacon. Therefore, I caved and ordered it. No regrets here! The soup was warm and cheesy with a subtle beer taste. I've usually had soups that were way too cheesy, or way too beery, clearly not the case here. The garlic croutons and crunchy bits of bacon on top added a nice contrast in flavor and texture to the soup. I really wanted to lick the bowl clean.
So my final course was the Chicken and Brie sandwich. (The friends I was dining with opted to order desserts and after dinner drinks.) I was a bit confused by the presentation after reading the description. I thought there would be more of a contrast or separation of the ingredients, rather than everything feeling all smushed together on a sandwich. To me the sandwich tasted like creamed spinach with mushroom and chicken (leg and thigh) on sour dough bread. In my mind I thought there would be large chunks of chicken, with a layer of cooked mushroom, topped with brie and spinach, followed by basil mayo on the sour dough. I would have almost liked everything separate: chicken and mushroom, with a creamed brie and spinach side, served with thick slices of sour dough.
The basil mayo was totally lost in everything, which is kind of sad because basil mayo is a pretty amazing condiment. I ate about half the sandwich and took most of the fries home. Dave and I had the leftovers for breakfast the following morning, with the all important over easy egg on top. An egg on top of leftovers automatically makes it a tasty breakfast! (Try it on slice of pizza!)
The garlic and herb fries were good, but the sourdough bread was the clear winner in this portion of the meal.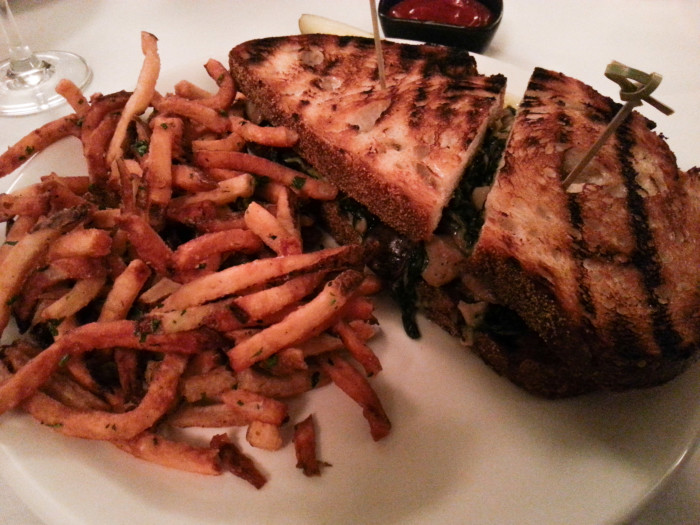 There were a few ingredients  in the Large Plates section that had people searching the internet for pictures or descriptions to share with others. I understand that it's a fine dining establishment, but at the end of the day can we just call hericot vert, french green beans? There's only so many times you can ask the wait staff to describe a menu item.
Overall, I had an enjoyable time at Willow. The drinks were unique and delicious. The portions were surprisingly generous given the price points. There's certainly enough menu items to please most palates.
https://www.thesugarpixie.net/2015/02/01/review-willow-restaurant-in-pittsburgh-pa/
https://www.thesugarpixie.net/wp-content/uploads/2015/01/wpid-psx_20150129_200107-1024x768.jpg
https://www.thesugarpixie.net/wp-content/uploads/2015/01/wpid-psx_20150129_200107-300x300.jpg
Reviews
Pittsburgh,Pittsburgh restaurants
Finally had the opportunity to check out Willow restaurant just on the outskirts of downtown Pittsburgh. A group of friends and I had a great time trying all the different foods available. Earlier in the day Dave and I took a look over the menu trying to figure out...
thesugarpixie
thesugarpixie@gmail.com
Administrator
The Sugar Pixie