How 'bout them Apple Fritters
We are all about eating with the seasons in the house, and that means every meal is fair game. It's apple season everyone! A new apple on sale each week! Pick your own apple places are open (if that's your thing). APPLE SEASON!!!! Where's Applejack and Big Macintosh? (Shout out to my younger readers.)
Many years ago when we lived in Florida, there was fabulous doughnut shop with the most amazing apple creation called Apple Uglies. We have since spent many years trying to find a recipe that comes close to what we thought the apple uglies where. (Most likely a doughnut dough base with diced apples and cinnamon mixed in.) Don't get me wrong, I love making doughnuts, but a good dough takes time and planning. That's why I love this recipe from Cook's Country because the amount of time these takes is fairly reasonable (a bit over an hour), not instant, but you can definitely get them done in time for breakfast! These taste best fresh, but we have rewarmed them in the oven (few minutes) and microwave (few seconds).
I made these fresh one morning for my husband to take into work, so they are definitely doable in a morning! (Started at 5:45am, and we were eating some of the extras at 7am!)
Time saving tip: Measure all the dry ingredients ahead of time/night before.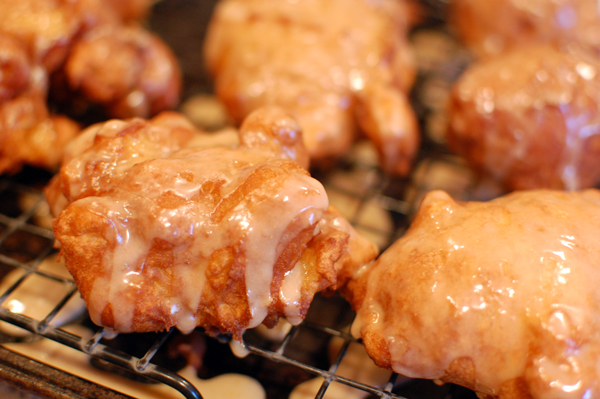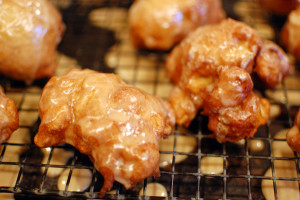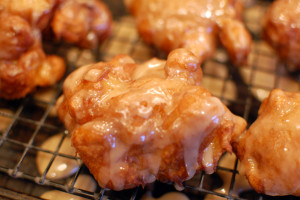 Apple Fritters
Crispy apple glaze outside, with a soft and chewy apple pieces inside.
Author:
Cook's Country - as posted on thesugarpixie.net
Ingredients
Fritters
2 Granny Smith apples, peeled, cored, and cut into ¼-inch pieces
2 cups all-purpose flour
⅓ cup granulated sugar
1 tablespoon baking powder
1 teaspoon Salt
1 teaspoon ground cinnamon
¼ teaspoon ground nutmeg
¾ cup apple cider
2 large eggs, lightly beaten
2 tablespoons unsalted butter , melted
3 cups peanut or vegetable oil (I prefer canola)
Glaze
2 cups confectioners' sugar
¼ cup apple cider
½ teaspoon ground cinnamon
¼ teaspoon ground nutmeg
*Note: In a pinch, if apple cider isn't available a kid sized apple juice box works or apple juice works, however, cider IS best.
Instructions
Fritters
Spread prepared apples in single layer on paper towel–lined baking sheet and pat thoroughly until dry with paper towels.
Begin to heat oil in dutch oven over medium-high heat to 350 degrees. (While waiting for oil to reach temperature, follow the next steps.)
In a large bowl: combine flour, granulated sugar, baking powder, salt, cinnamon, and nutmeg.
In a medium bowl: whisk ¾c cider, eggs, and melted butter until combined.
Add and stir apples into flour mixture. Then add and stir cider mixture until all ingredients are incorporated.
When oil reaches temperature, use ⅓-cup measure to transfer 5 heaping portions of batter to oil. Press batter lightly with back of spoon to flatten. Fry until deep golden brown, 2 to 3 minutes per side. (Adjust burner as necessary to maintain oil temperature between 325 and 350 degrees)
Transfer fritters to wire rack set inside rimmed baking sheet. Bring oil back to 350 degrees and repeat with remaining batter. Let fritters cool 5 minutes.
Glaze
Meanwhile, whisk confectioners' sugar, cider, cinnamon, and nutmeg in medium bowl until smooth.
Top each fritter with 1 heaping tablespoon glaze. Let glaze set 10 minutes. Serve.
https://www.thesugarpixie.net/2015/10/18/how-bout-them-apple-fritters/
https://www.thesugarpixie.net/wp-content/uploads/2015/10/apple_fritter3.jpg
https://www.thesugarpixie.net/wp-content/uploads/2015/10/apple_fritter3-150x150.jpg
Recipes
apple,breakfast
We are all about eating with the seasons in the house, and that means every meal is fair game. It's apple season everyone! A new apple on sale each week! Pick your own apple places are open (if that's your thing). APPLE SEASON!!!! Where's Applejack and Big Macintosh? (Shout...
thesugarpixie
thesugarpixie@gmail.com
Administrator
The Sugar Pixie