Fried Apples
The inspiration for this recipe comes from the oh so delicious fried apples at Cracker Barrel and apple pie. I was looking for a side for dinner one evening, and I may have been craving some apple pie and that's how this fried apple recipe was born. I think it's super easy and my kids loved it for taste and texture. (Easy for a child with orthodontic appliances to cram quickly into their mouth.)
Apple peeling
For this recipe, I did a rough peel since since I figured the peel would add some texture and nutrients. I do not know if rough peel, or lightly peel is a thing but remove about half the peel from the apple – skip around for some fun! Other recipes leave the apple unpeeled, so try it how you like it.
Apples for the recipe
Pick an apple that's nice and firm. For ours, I used a combo of Honeycrisp and Macoun (much softer apple) and the softer apple definitely cooked/fell apart faster. Honeycrisp or Gala would be a good choice, mix it up with a Grannysmith for some tartness.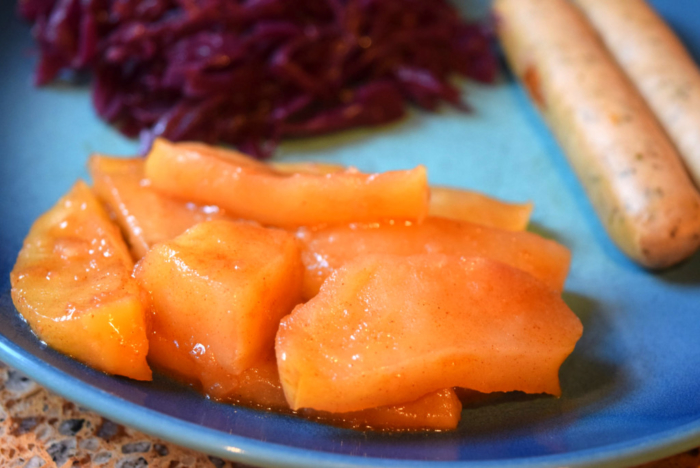 Fried Apples
Warm, apple-cinnamon goodness.
Ingredients
2 tablespoons butter (double this IF you do not have apple cider)
2 tablespoons apple cider
¼ teaspoon flour
6 firm apples, lightly peeled, cored, and sliced
1 teaspoon lemon juice
¼ cup brown sugar
1 teaspoon ground cinnamon
1 pinch ground nutmeg, or ¼ tsp freshly grated nutmeg
Squeeze of lemon - optional
Instructions
In a large skillet melt butter.
After butter melts, add flour, apple cider, brown sugar, and cinnamon and whisk together.to break up any lumps.
Spread the apples evenly throughout the skillet and gently mix apples into apple cider and seasonings.
Cover and cook over low heat for 10 minutes. Apples should still be tender, do not overcook.
Add a squeeze of lemon to finish, mix, and serve.
Save
https://www.thesugarpixie.net/2016/11/26/fried-apples/
https://www.thesugarpixie.net/wp-content/uploads/2016/11/fried_apples1.jpg
https://www.thesugarpixie.net/wp-content/uploads/2016/11/fried_apples1-150x150.jpg
Recipes
apple,sides
The inspiration for this recipe comes from the oh so delicious fried apples at Cracker Barrel and apple pie. I was looking for a side for dinner one evening, and I may have been craving some apple pie and that's how this fried apple recipe was born. I think...
thesugarpixie
thesugarpixie@gmail.com
Administrator
The Sugar Pixie