Pan Seared Parmesan Brussel Sprouts with Lemon Aioli
One day I was getting ready to cook some frozen brussel sprouts for dinner when my mind wandered to the brussels we had at Butcher and the Rye (my review). Those brussel sprouts were the most delicious things we have had in recent memory, and while the individual flavors were familiar the pairing was not. Then it struck me how similar the lemon aioli tasted to my favorite salad dressing – Caesar dressing! In caesar's semi-homemade form from Martha Stewart you mix mayo, lemon, garlic, salt, pepper, and anchovy paste. (For the more adventurous chefs try your hand at making your own mayo (try the bahn mi sandwich recipe too), and coddle the eggs for the recipe if you like.)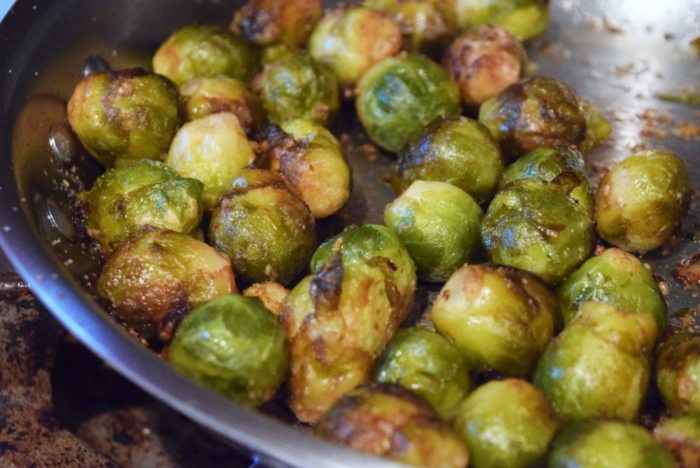 I hope I have not lost you because wow, this recipe is ridiculously easy utilizing frozen brussels. We buy and consume so many items from Aldi's, so go there for a great deal on these steam in the microwave Season's Choice brussel sprouts. If you live or are visiting the Pittsburgh area, please go to Butcher and the Rye to have theirs! The saltiness of the parmesan, with the mouth feel of the mayo and lemon is a bit overwhelming and unexpected at first, but then it is an umami delight in your mouth. This will turn anyone into a lover of brussel sprouts, except our kids which still aren't quite sure yet. They do enjoy the aioli/sauce very much on french fries!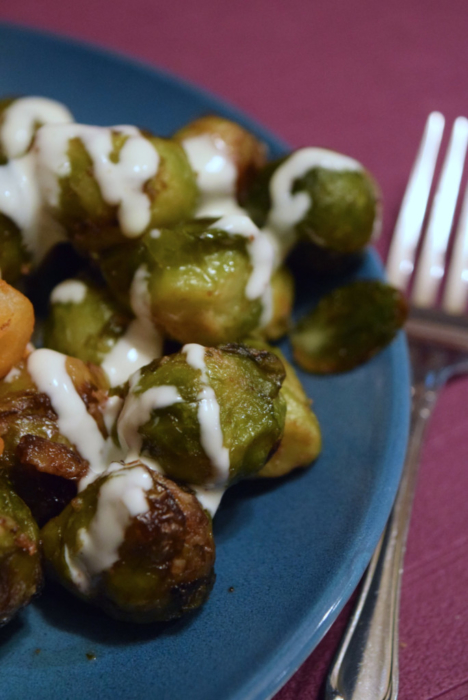 Enjoy!
Pan Seared Parmesan Brussel Sprouts with Lemon Aioli
Pan Seared Parmesan Brussel Sprouts cooked in olive oil, garlic, and balsamic vinegar served with a lemon aioli.
Ingredients
Lemon aioli
¼ cup of Mayonnaise
Juice from ½ lemon (about 1-2 tablespoons of lemon juice). Lime tastes just as great too
Dash of Salt
Dash of Pepper
Pan Seared Parmesan Brussel Sprouts
2 tablespoons Olive Oil
1 bag of steam in bag brussel sprouts (Season's Choice from Aldi's used)
½ tsp Garlic Powder
1 Tablespoon Balsamic Vinegar
1 Tablespoon Grated Parmesan Cheese (adjust to your tasting, or if fresh)
Dash of salt
Dash of Pepper
10" skillet for cooking
Instructions
Lemon Aioli
Whisk together in a small bowl all aioli ingredients: mayo, lemon juice, salt, and pepper. Add more or less mayo and lemon juice to adjust for taste and consistency.
The final combo should have at a light lemon mayo taste, and may be thin in consistency as more lemon juice is added.
Let the aioli rest while finishing the pan roasted brussel sprouts.
Pan roasted Brussel Sprouts
Steam brussel sprouts in microwave just short of lowest cooking time.
Cut open bag, allow brussels to cool slightly.
Cut each brussel sprout in half, set aside.
Heat 2 tablespoons of olive oil over medium-high heat. Oil should be hot and ready to sizzle.
Add brussel sprouts to oil in a single layer if possible. Brown over multiple surfaces. Adjust heat as necessary, cooking time varies, no more than 5-10 minutes.
Add ½ teaspoon garlic powder, and season with salt and pepper. Mix and cook until garlic is fragrant 1-2 minutes.
Add parmesan cheese and stir again.
Deglaze pan with 1 tablespoon of balsamic vinegar.
Serve immediately, drizzle with aioli at the table.
https://www.thesugarpixie.net/2016/09/10/pan-seared-parmesan-brussel-sprouts-with-lemon-aioli/
https://www.thesugarpixie.net/wp-content/uploads/2016/09/brusselsproutslemonaioli.jpg
https://www.thesugarpixie.net/wp-content/uploads/2016/09/brusselsproutslemonaioli-150x150.jpg
Recipes
aioli,aldis,brussel sprouts,lemon,sides
One day I was getting ready to cook some frozen brussel sprouts for dinner when my mind wandered to the brussels we had at Butcher and the Rye (my review). Those brussel sprouts were the most delicious things we have had in recent memory, and while the individual flavors...
thesugarpixie
thesugarpixie@gmail.com
Administrator
The Sugar Pixie