First time camping with kids
Last year we got the kids pumped about camping and dove right in to buying the right gear for our family as it went on sale.  We were just about ready to go last summer, but got shy about picking a location and date and just decided to wait. Well this year the kids were asking again, and to make things easy I picked a campground I had been to as a kid. We picked a free weekend from our busy calendar and decided to try camping for twenty-four hours.
This free weekend happened to come after our daughter had a dual expander installed in her mouth. (Is that the right words, installed?) We tried to get creative with foods with since some old standbys (nothing sticky or chewy) would not work, but oh…we made it work! We all had a blast and can't wait to go again.
In the week leading up to our camping trip, rain…lots of rain was in the forecast. I continued to check the weather in the hours before we left and everything seemed to agree the rain would clear by our check in time. We left mid-day Sunday and had lunch at Dean's Diner in Blairsville – one of our favorite diners and always make it a point to stop whenever we're nearby.
Equipment
We loaded up our Subaru Outback with equipment purchased during sales from REI, Target, and Amazon via recommendations and reviews from OutdoorGearLab.com. This website was a great resource in navigating the sea of car camping gear available. I highly recommend this site for anyone that's looking to get outdoors.
Campsite Setup
We arrived just after 4:00pm at Crooked Run Campground in Prince Gallitzin State Park. Everything at the site was pretty well set up, so we got right into putting the Marmot Limestone 6P tent up. It took us about three tries to get all the right tabs, parts, and pieces where we wanted them. We have put this up tent together before, but it had been well over a year at this point and I missed watching a refresher video that morning. PS: Red tabs go together! We had a good time laughing about the whole situation at least! Once the tent was settled, I piled all the sleeping bags, mats etc. in and Dave made a campfire and started on dinner.
Dinner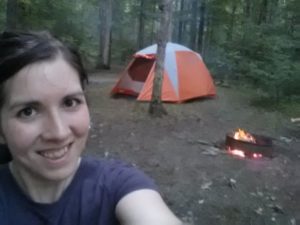 We tried to keep dinner easy. We originally planned for hot dogs, buns, and beans, but streamlined the idea into weanies and beanies. (A gourmet delight our family introduced to Dave while we were dating.)
The beans were cooked in a Lodge Cast Iron Skillet on our Coleman Triton Camp stove. The Coleman stove was awesome and very easy to carry, set up, operate, and clean. Coleman sells two sizes of sturdy grill bags, and per some suggestions I bought the larger version to store grill accessories in. (Oven mitt, spoons, spatulas, knife, cutting board etc.)
While the beans were cooking, we roasted our hot dogs over the fire for some extra fun. Just before Christmas last year, I snagged all of us the Rome 20″ extension forks for $4 on Amazon. The extension fork has a nice length, the wooden handle lowers the chance for hands getting burned, and the two tines are gently bent to hold the items in place. (*buy Rome Extension fork – affiliate link)
During all the fun, I unfortunately lost one of my dogs in the fire, because I tried to cook two at time. (Hangry setting in.) Per the kids, it was probably THE best hot dog ever. (It was looking pretty ace just before it slid off. Just cook one at a time kids!)
After the hot dogs were cooked, we cut them on a small, super slim cutting board, and added them to these super beautiful blue bowls by GSI Outdoors. Add a scoop or two of beans and bam, dinner is done. We brought some cut watermelon from home to have with dinner as well.
Everything cleaned up nicely, even the cast iron skillet!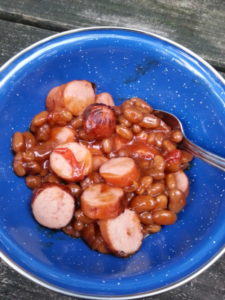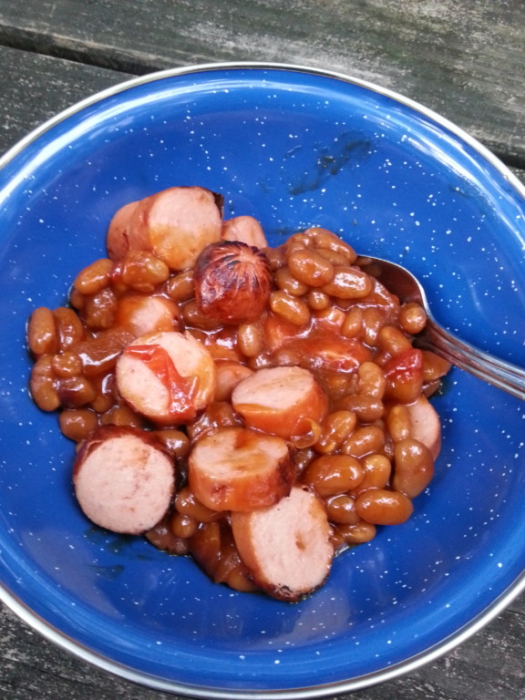 Dessert
Every camping trip needs smores, right? While gathering food for the trip, we were a bit concerned about the marshmallows being too sticky for our daughter's orthodontic appliance. (sad trombone for no smores at camp) Ah, ha! MOUNTAIN PIES! Three of us still had smores, but for our daughter I brought bread, chocolate chips, and chopped frozen cherries we had on hand. (Canned pie filling can get insanely hot.) I sprayed the bread with some canola spray and sprinkled the chips and cherries over the bread. Lock up the Rome Mountain Pie iron and cook away! My daughter insists we all have to make these together sometime!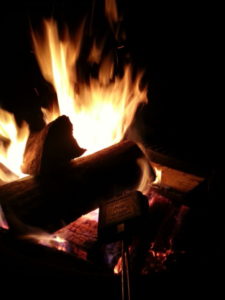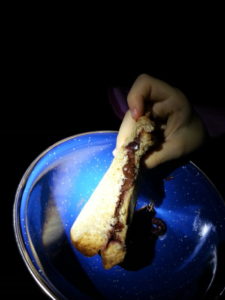 While we enjoyed our desserts, we spent some time around the fire trying to sing songs I sort of remembered as a Girl Scout. The fire was winding down, so we put it out and went to go look at the stars down by the lake. It was a little overcast as we walked down, and then the clouds started clear and move around a bit. There were so many stars, so.many.stars! We live in a suburban area, but it's been so long to see that many stars in the sky that you forget just how many stars there are out there. Then just enough of the sky cleared so we could see the Milky Way which blew the kids' minds. Both girls hope they remember what they saw for a very long time!
Bedtime
We all started to get a bit tired and headed back to get ready for bed. Sleeping in a tent was our biggest question of the whole camping experience. The kids are mostly okay with insects in general, but we just never know and were hoping for the best sleeping in the outdoors. Turns out I was the one that kept getting up, because I decided to catch up on my water consumption at dinner. (You figure that one out!) Each child got up once without issue, except that time I mixed up who was I was who in a sleepy fog. While the temperatures were probably in the upper 50s, Dave and I enjoyed our sleeps on the REI Camp Bed 3.5 Self Inflating Sleeping Pad and two zipped together Kelty Callisto 20 sleeping bags. The kids got yoga mats and 30 degree sleeping bags with zero complaints from them.
Breakfast
Breakfast was a no brainer during our initial planning. Bacon, and pancakes cooked in the leftover bacon grease. (Wayyyyy more grease than we could ever hope for, poured into another pretty blue camping mug.)
Dave found it funny we were trying to find a way to keep the bacon cold, since in olden days pork was salted, cured, and smoked so it could be stored for a long time without refrigeration. No fear, we kept it cold and cooked it well! In addition to so much bacon, we used Bisquick's Shake and Pour bottle of pancake mix. Just add water, shake, and pour. The pancakes were actually really good, and for a twist of nostalgia we used Log Cabin syrup from a bottle. (Faux syrup is what I grew up on, but have since been converted to Grade A Dark Amber real  Maple Syrup.) Do yourself a favor and buy more pancake mix than what you need. We had just enough mix for five large pancakes using the entire surface area of the cast iron skillet.
We skipped on making camp coffee and enjoyed some Starbucks Doubleshot Espressos, while the kids had some Horizon Chocolate Milk. The food was served on the blue plates from our outdoor dining set. There are forks to match that are sold separately.
After breakfast we packed everything up and took a stroll around the campground. I went here as a teen with at least a dozen of my cousins, a variety of aunts, uncles, grandparents. Not much has changed since those late 90s camping experiences and it was really great to share those with our kids. The day was so utterly perfect I couldn't have asked for anything better. So many fun memories here!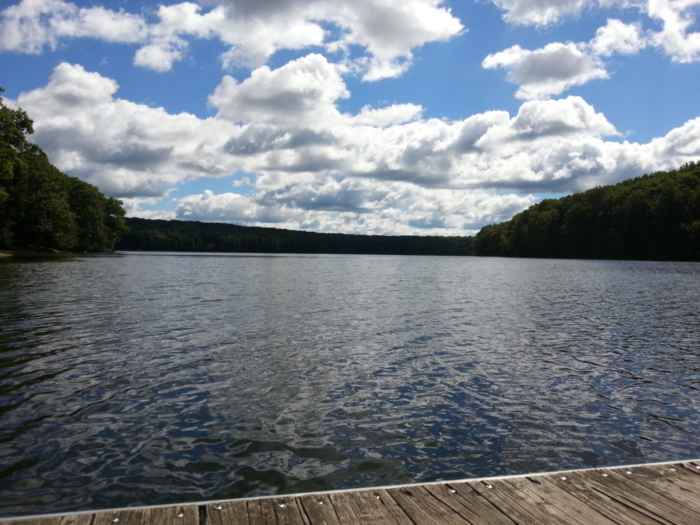 On the way home we stopped at the water tower to take a look around. I was not sure if the kids wanted to climb up the tower because in my head I remember it being a lot taller than it actually was. The stairs were enclosed, and it was really not scary at all. The girls looooved it!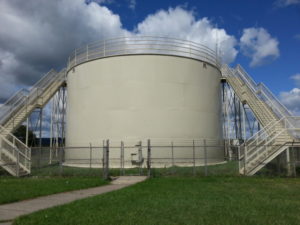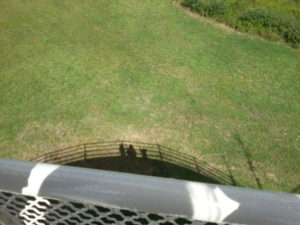 Looking down at the dock from the water tower.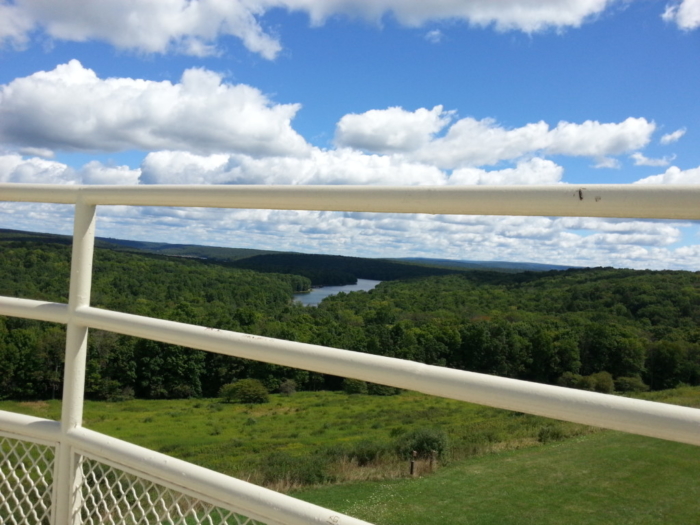 We also ate at Dean's Diner again, because…diner food and PIE! One child like chocolate, another kid liked Dave's cherry pie, and everyone was just okay with mommy's coconut cream pie. (Which is fine, because…more for me!) If your pie normally has a meringue, they can remove it and add whipped cream instead.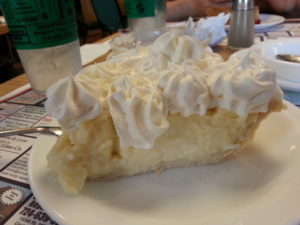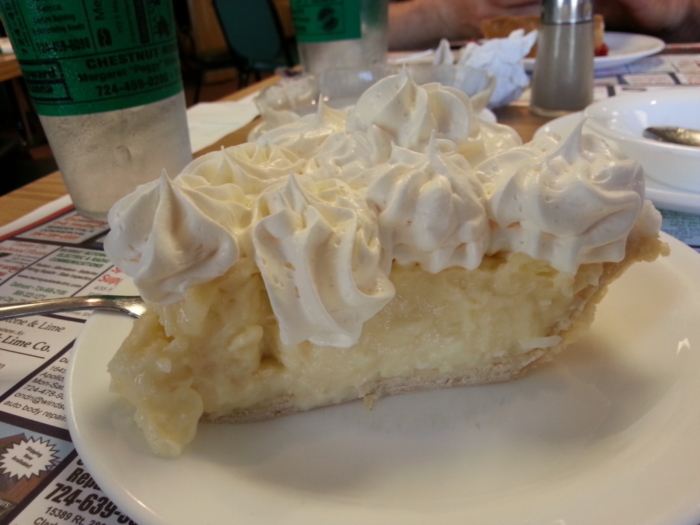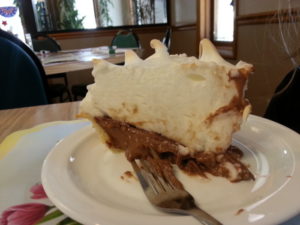 I can't wait to go camping again, if not for the fun, pancakes, and pie! Until then, I've picked up some cool camping tips along the way and have a board on Pinterest!
https://www.thesugarpixie.net/2016/09/04/first-time-camping-with-kids/
https://www.thesugarpixie.net/wp-content/uploads/2016/09/20160821_201043.jpg
https://www.thesugarpixie.net/wp-content/uploads/2016/09/20160821_201043-150x150.jpg
Family
camping,dean's diner,gallitzin,mountain pies
Last year we got the kids pumped about camping and dove right in to buying the right gear for our family as it went on sale.  We were just about ready to go last summer, but got shy about picking a location and date and just decided to wait....
thesugarpixie
thesugarpixie@gmail.com
Administrator
The Sugar Pixie