E&J XO Brandy and the Classic Sidecar
The history of E&J Gallo brandy dates back to 1938, when Ernest and Julio Gallo used a grape surplus in California's wine country to make their Cream of California Brandy. More than seven decades later, E&J makes its brandy in three tiers, and at the top is XO Brandy. Aged at least two years and carefully blended by hand in toasted oak barrels, E&J XO Brandy has a lusciously smooth mouthfeel and refined flavors worthy of its top-shelf label. Its unique notes of flavors make it perfect for mixing into a range of cocktails. Enjoy E&J XO Brandy in the company of friends, mixing up some killer cocktails from the recipe library on ejbrandy.com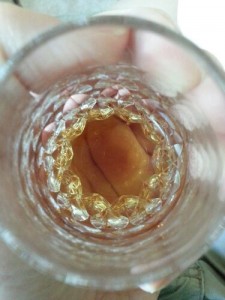 I don't know how I/we have missed brandy all this time in building our liquor selections. This is a fantastic introduction to the world of brandy, and I am looking forward to trying the other selections in E&J's lineup. Our first sharing of the brandy came on Father's Day. I received some rebate coupons from BzzAgent.com for their E&J campaign the day before and what better way to celebrate, than to celebrate with family! My in-laws had some really beautiful palm sized etched crystal glasses for us to drink the brandy in. We all cupped the glasses in our hands to warm and release all the flavors and aromas. I was a bit taken aback by the strong alcoholic flavor, but it was delicious, sweet tasting liquid. Reminded me of a lightly sweetened scotch. We left a rebate slip with my father-in-law, as he was anxious to buy his own bottle.
Sidecar Is My New Sidekick
Over the next few days we looked over E&J's website for more recipes, and we have been stuck on the Classic Sidecar as a great summer drink. One of the first cocktails going all the way back to the 1920s, this drink does not fail to disappoint. Fresh lemon juice, triple sec and brandy star in this recipe. It's a perfect pre-dinner or post dinner drink. Try it in different quantities to find the drink you like.
¾ oz E&J VS Brandy
¾ oz triple sec
¾ oz of lemon juice
INSTRUCTIONS:
Combine all ingredients in cocktail shaker with ice, shake. Strain into a cocktail glass, garnish with lemon peel and a strawberry.
Save
Save
https://www.thesugarpixie.net/2013/07/02/ej-xo-brandy-and-the-classic-sidecar/
E&J XO Brandy and the Classic Sidecar
https://www.thesugarpixie.net/wp-content/uploads/2013/06/wpid-PhotoGrid_1371690685359.png
https://www.thesugarpixie.net/wp-content/uploads/2013/06/wpid-PhotoGrid_1371690685359-300x300.png
Drinks
Recipes
Reviews
#GotADiscount,alcohol,brandy,bzzagent,drinks,e&j,reviews
The history of E&J Gallo brandy dates back to 1938, when Ernest and Julio Gallo used a grape surplus in California's wine country to make their Cream of California Brandy. More than seven decades later, E&J makes its brandy in three tiers, and at the top is XO Brandy....
thesugarpixie
thesugarpixie@gmail.com
Administrator
The Sugar Pixie