Eating around the north suburbs of Pittsburgh, PA (Wexford/McCandless)
We are really lucky in that the area where we live there's some really unique places to eat. This post started back in late October when our internet went out. Dave had decided to work from home that day, so we went for lunch while we hoped our internet would be fixed when we got back. (It wasn't, and that is a whole other crazy story.)
Hello Bistro at McCandless Crossing
Hello Bistro is owned by Eat'n Park Hospitality Group, so it should be good right? It had a bright clean interior, with great view of all the ingredients for the delicious sounding and looking salads – including all the nut products. (Food allergy family here.) We enjoyed our burgers and fries, but I was really hoping they would something more. The fries were delicious and served in a brown paper bag which I always feel makes the fries taste better. As far as the burger, I'd rather eat a burger from Five Guys for the same price. Finally, as long as the nut products are in open containers we will not be bringing the kids here, and it just seems a bit too close for comfort for cross contamination concerns. I would go back if a friend wanted to meet here so we can try some salads!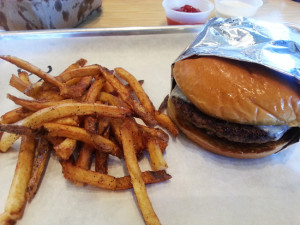 Gigi's Cupcakes at McCandless Crossing
Yes, I finally went to Gigi's Cupcakes! I would definitely go back and here and was pretty impressed with the size of the cupcake. (They give you a fork to eat it with!) I got a double chocolate, and Dave tried a birthday cupcake. A vanilla and chocolate cupcake are our go-to why trying a new bakery. It's an easy baseline for comparison!
The cakes were well executed, and tasted delicious on their own. We each had wished we had each others icing on our cupcakes though, as though there seemed to be just a little too much and very sweet and overwhelming by the end. They seem to be accommodating for gluten allergies, but other food allergies not so much.
These cupcakes were very filling, and I would say they are worth the price you pay.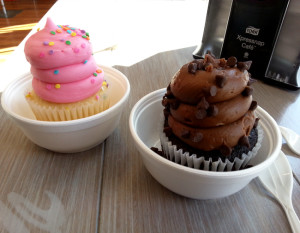 Wexford Eats
Peace, Love, and Little Donuts – Wexford
Peace, Love, and Little Donuts has a few locations around Pittsburgh but this month I visited the newest location in Wexford. (Once a month a group of moms from our MOMS group meet for coffee at various bakery/breakfast places.) PLLD has all sorts of fun flavors and toppings. Their batter is fairly allergen friendly, but once you start exploring the toppings all bets are off. For us, we get very plain donuts for the kids and have not run into any issues with cross contamination. (Avoid the M&Ms, Nutella, Peanut butter, but those all cost extra anyway.)
I had a Pumpkin Spice Latte doughnut, and then a doughnut with chocolate, Nutella (eek!), and peanut butter. I loved the pumpkin donut and it was spiced very well. I took home six doughnuts to share with the family. This location has 4-5 tables with some chairs so you can enjoy some coffee or tea with your donuts.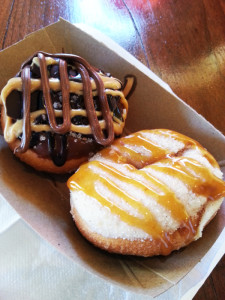 Bartram House Bakery
When you're used to baking so many desserts from scratch trying a new bakery sort of falls to the bottom of my list. In November, I again went with some friends to visit Bartram House Bakery in Wexford. I was excited to see they offer breakfast and lunch, not just baked goods. By the time we arrived at 9:30am many of the pastries I wanted to try were picked over so I decided to try a danish, coffee and eggs benedict. I was pleased to see they were serving and selling coffee (Highlander Kreme) from Prestogeorge. The coffee tastes like irish cream and butterscotch, even before you add anything to it!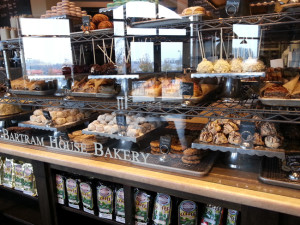 I went with my go-to when trying a new breakfast place, Eggs Benedict. The breakfast potatoes were crisp on the outside, and nice and soft inside. Mixed in with the potatoes were some cooked onion that were nicely seasoned. The eggs benedict were good, not mindblowing, but good. The hollandaise was a bit thick, and generic in flavor, but the eggs were perfectly poached.
The danish. Meh. That's a dollop of sweetened cream cheese in the center. I tried spreading it around, but all I could taste was powdered sugar. I hear the lemon coconut bars are pretty amazing, but….I'd pass on the danish. Breakfast gets a thumbs up.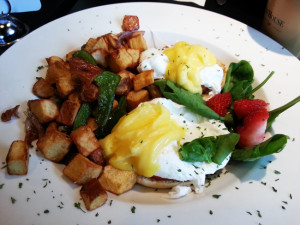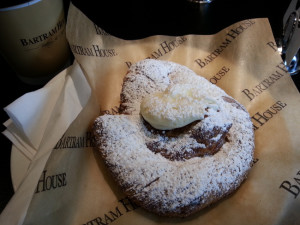 Chub's Place – North Park
Our family would pass Chub's Place all the time growing up, and even now with our family we pass it a lot! As a kid my dad would mention it, I think he used to go in "his younger years?"
Dave and I finally decided to just go one day, and I will say I wish we had gone sooner. It's nice little place on the outskirts of North Park. Our server was very polite, and the dated restaurant definitely has its collection of regulars. (Read: Bring in your morning paper, order some coffee and chat with your friends – every day.)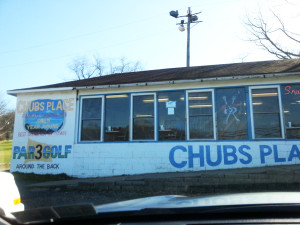 Dave was hungry for a really good BLT, and I was just hungry! Dave got a bacon sandwich (with slaw on it), and I got an Italian Sub. The bacon was cooked nicely, but the slaw detracted a bit from the bacon flavor. The fries were excellent. The italian sub had nice thick cut meat, and the slaw added a unique flavor. We were very satisfied with our meal, and price we paid for our food. REMEMBER TO BRING CASH! (They do have a small ATM on site.)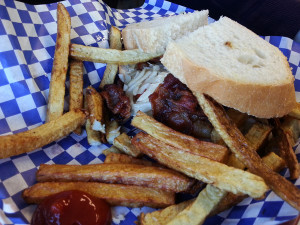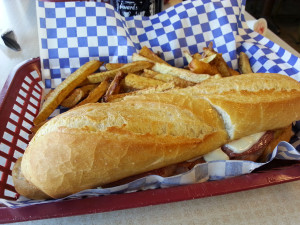 Baked from Scratch Cafe
I visited Baked from Scratch Cafe with some mom friends for our monthly coffee. Going in, I was most excited about their lunch offerings, but was looking forward to trying their baked goods and coffee. The location is quiet and easy to get to.
My friends got an apple doughnut, but I couldn't find any so I opted for the traditional glazed, and a chocolate iced doughnut with a cappuccino.
The doughnuts were good. Fluffy inside, good flavor, but honestly I have had better. The cappucino was HOT, HOT, and good. A friend arrived before me and got tea, and it was still extremely hot by the time I got there. Their bakery case had a variety of treats, but I WILL be going back for lunch!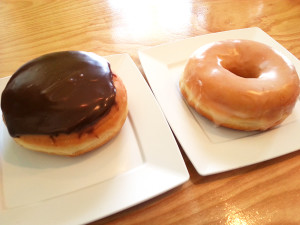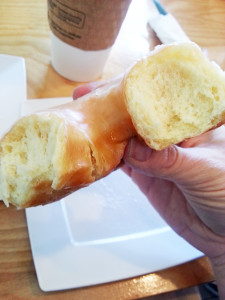 Alright, there you go – a little roundup of places to eat in the Wexford, PA and McCandless, PA areas. Great suburban area just north of Pittsburgh, Pennsylvania!
https://www.thesugarpixie.net/2015/12/14/eating-around-the-north-suburbs-of-pittsburgh-pa-wexfordmccandless/
https://www.thesugarpixie.net/wp-content/uploads/2015/12/Eating_McCandless7.jpg
https://www.thesugarpixie.net/wp-content/uploads/2015/12/Eating_McCandless7-150x150.jpg
Reviews
Pittsburgh restaurants,pittsburgh suburbs,restaurant reviews
We are really lucky in that the area where we live there's some really unique places to eat. This post started back in late October when our internet went out. Dave had decided to work from home that day, so we went for lunch while we hoped our internet...
thesugarpixie
thesugarpixie@gmail.com
Administrator
The Sugar Pixie